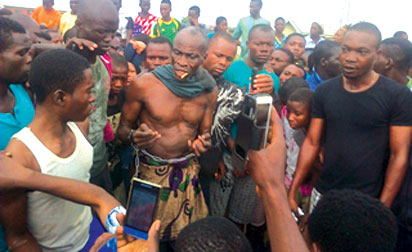 A ritualists' den allegedly owned by a pastor, was uncovered at Ogolonto area of Ikorodu Lagos yesterday. 
Eight victims who were reportedly abducted from different regions of the country were rescued from the den according to Vanguard.
The den, which is said to be owned by a Pastor named Ernest Nwankwo General Overseer of Holy Family Ministry a.k.a House of Mercy, is located at 7, Oshodi Street, behind the church. 
According to reports, the lair was uncovered following a foiled attempt by a woman to take one of her victims, a seven year‑old boy, to the location.
The woman, identified as Rosemary Chukwu,  allegedly kidnapped  the primary school pupil, Emmanuel Emeka, on his way to fetch water from a public well one morning.
Chukwu was alleged to have kept the boy inside her toilet and conducted a prayer session with her four children, apparently to prevent her co‑tenants from hearing the abducted boy's cries for help. 
Emeka's mother, who lives four buildings away from Chukwu, became agitated when her son did not return when he was supposed to. She was said to have raised an alarm which caused residents to search for her son in the neighbourhood.
Chukwu was said to have been sighted with a suitcase on her head, accompanied by her children. It was then discovered that the little boy was in the suitcase "half dead."
Upon interrogation by a mob who attempted to lynch her, she reportedly confessed that Nwankwo instructed her to kidnap the boy.
Based on information the woman gave to the mob, they were able to find the den. An undisclosed number of people bound in chains were found in the building.
The victims were said to have recounted how they were kidnapped from Anambra, Bayelsa, Ogun and Oyo states at different times. One of them reportedly revealed that  she was kidnapped 11 years ag along the Lagos/Ibadan expressway while returning from a vigil. Another victim said he had been kept prisoner for two years. 
In total, eight people were rescued.
The case is said to be under investigation.
Photo Credit: Vanguard