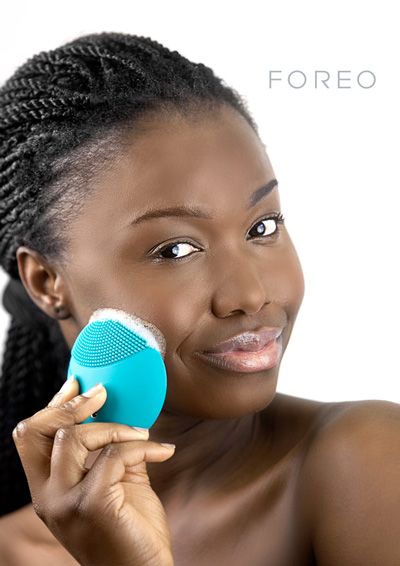 Sweden-based FOREO is taking the beauty industry by storm with its iconic new range of beauty devices that provide a smarter, more effective way to care for the skin. Launched last year, FOREO's Luna™ range has already received widespread coverage in magazines such as Glamour and Vogue, and is sold worldwide at notable retailers, including Selfridges, Harvey Nichols, Sephora and 10 Corso Como. The LUNA™ has also recently been granted the prestigious "Innovation of the Year" award from Elle Sweden.
One of the main driving forces behind FOREO is their dedication to promoting healthy skincare across the globe. That's why they are now entering the African market – so that beauty lovers in the region can have access to the same award winning skincare devices. To cement their commitment, FOREO recently sponsored African Fashion Week and their LUNA™ range was showcased at Cosmex.
There is a strong culture of beauty and makeup appreciation in West Africa. So, what if the skin's natural beauty required no makeup to improve its appearance? For FOREO, that's where beauty starts – with skincare, instead of makeup.
Women with darker skin tones produce more melanin and can often have larger pores, leading to oilier skin. This coupled with excess use of makeup can clog up pores which will then lead to pimples and blemishes. It is for this reason regular, twice daily cleansing of the skin is important. That's why beautiful skin starts with a consistent cleansing routine, as cleansing provides the vital foundation for maintaining naturally beautiful skin. Appreciating this, FOREO is bringing a skincare range that will complement every woman's beauty routine – the LUNA™
The secret to the LUNA™ range's global success is in the T-Sonic™ pulsations, channeled through a unique brush surface of soft silicone touch-points. This provides deep yet gentle cleansing that removes dead skin cells, and unclogs pores of dirt, oil and makeup residue. Available in 3 models tailored to specific skin types, the LUNA™ also has an anti-aging function that directs lower-frequency pulsations to diminish the appearance of fine lines and wrinkles. The result is skin that looks smoother, healthier, clearer and radiant – no makeup required.
Lola from FOREO, says "The Luna Range is probably one of the most exciting things that has happened in the Beauty Industry since face wash was invented!  It takes skincare to a whole new level. In the last 22 years I've been working as a makeup artist and therapist I haven't come across anything that has really made such a difference to my own personal skincare routine.  It's easy to use, leaves my skin looking and feeling great. Plus the battery lasts forever. This is ideal for a working mum of two.  I don't need to make time to "pamper" myself as its waterproof I can just jump in the shower and then get on with my day!".
Watch Makeup Artist Lola Maja-Okojevoh's (CEO, Sacred Beauty) review of the FOREO Luna device.
The LUNA™ is available for purchase online at  Jumia.com.
You can also visit Sacred Beauty for a skin consultation or treatments.
The Sacred Group is located at: 2 Abiola Close, Shonibare Estate, Maryland, Lagos or L'espace No. 19 Olosa Street, Victoria Island, Lagos.
For Stockist enquires across Nigeria please call: +234 80 97 97 97 97  or +234 80 76 76 76 76.
____________________________________________________________
Advertorial – Sponsored Content