A Malaysian passenger plane which has 280 passengers and 15 crew members on board has reportedly crashed in East Ukraine, near the Russian border.
All passengers on the flight are feared dead, The Independent reports.
According to reports, the plane was travelling from Amsterdam to Kuala Lumpur.
The picture above is from an alleged video footage of the crash, which has been posted on Youtube. However, according to reports, it is unclear if the footage is actually of this particular crash.
Malaysia Airlines has confirmed the incident, according to Business Insider.
Another report states that a source close to Ukraine's interior minister said the Malaysian plane was "shot down."
The minister was said to have come to this conclusion because the Ukrainian air force had been shooting down some rebels' planes in the same area over the last week.
This plane crash comes 130 days after the mysterious disappearance of the Kuala Lumpur to Beijing-bound Malaysian Airlines Flight MH370, which had 239 passengers on board.
Update:
The cause of the crash is still being investigated.
U.S Vice-President, Joe Biden, reportedly said that the crash was not an accident and that the plane was "apparently blown out of the sky, " The Independent reports.
According to reports, casualties – passengers on the plane include 80 children, 23 U.S citizens, six Britons, 154 Dutch, 27 Australians, 38 Malaysians, four Germans, four Belgians, one Canadian, and three from the Philippines. The nationalities of the rest of the passengers are yet to be confirmed.
Meanwhile, a Facebook post from Cor Pan, who was allegedly a passenger on the plane, has gone viral after he reportedly posted a photo of a Malaysia Airlines plane with the caption: "If it disappears, this is what it looks like."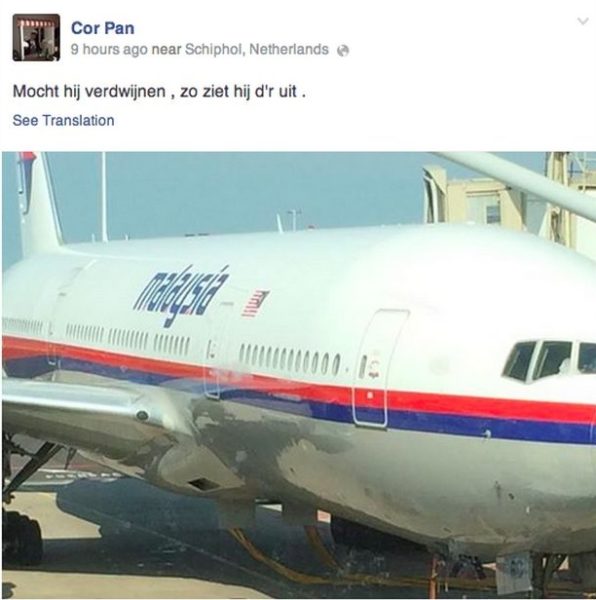 ***
This is incredibly sad. Our condolences go out to all the families and loved ones of the passengers.
Photo Credit: Business Insider/The Independent/Facebook/Buzzfeed