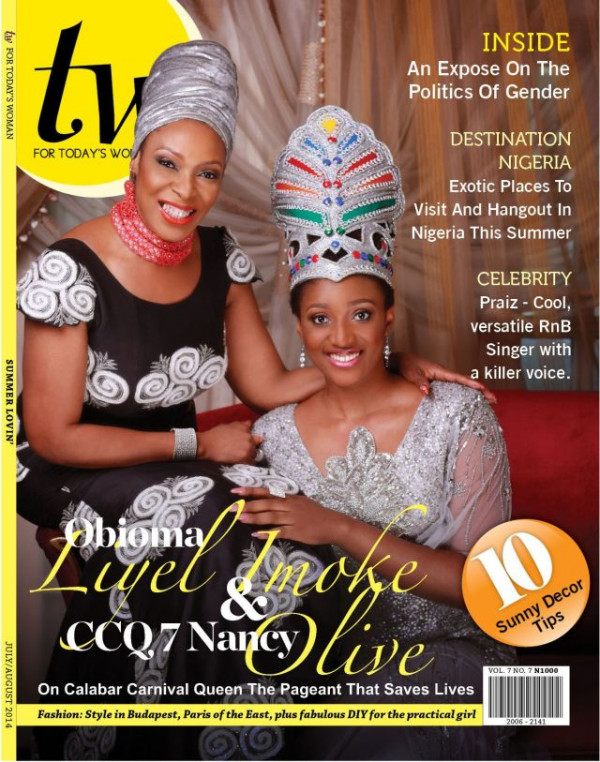 A fresh new magazine cover to kick off the week.
For its July/August 2014 issue, TW – Today's Woman Magazine, has on its cover the First Lady of Cross River state Obioma Liyel-Imoke. She shares the cover with the reigning Calabar Carnival Queen Nancy Olive Aisagbonhi.

As her tenure as the First Lady comes to an end after 8 years, Obioma speaks of her primary goal as First Lady, which was and still remains, to provide a safe haven for abandoned babies, working through her foundation MACA, (Mothers Against Child Abandonment), alongside the Carnival Queen to spread a positive moral message about the dangers of engaging in sex at an early age.
For TW's Celebrity Page this month, R&B musician Praiz speaks on missing being a fooballer by chance.
This month's fashion editorial takes you on a tour of the city of Budapest as model Nina Grossfurthner showcases breath-taking fashion pieces against the backdrop of the European city.
Read TW, tell us what you think and you stand the chance to win a fabulous prize! Send your thoughts on our current issue to [email protected]
TW Magazine is out now and available at newsstands and vendors nationwide. TW Magazine is available as a free app on your iPad, iPhone & iPod simply go to: https://itunes.apple.com/us/app/twmagazineapp/id662035026?mt=8.
For more go to our official website www.twmagazine.net. You can also find us on Facebook, Twitter and Instagram.
Credits

Cover Story: Hauwa R. Mukan
Photography: BIE Photography
Make-up: Zaron Cosmetics