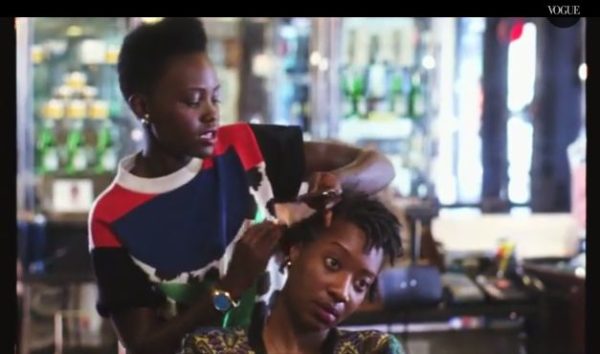 We just love Lupita more and more with each passing day.
The Vogue cover star made headlines a few days ago when her cover for the mag's July 2014 issue was unveiled; and Vogue keeps giving us more reasons to love her as they have unveiled a video. This isn't just any video. It's a video of Lupita braiding hair.
In the 2 minute 59 second feature, Lupita is seen braiding her dearest friends' hair. While braiding, she speaks on how she considered being a 'hair braider' as her attempted "side hustle". Lupita explains that she learned to braid and style hair during her summer holiday in Kenya.  When she got back to college in the US, she attempted to make this her side hustle but that was until she came to terms with the fact that she didn't have the heart to charge anyone money.
Now she just really enjoys braiding hair for her friends.
The video is a moving tribute to the intrinsic value of hair. Here are 4 quotes from the video we love;
1. Braiding tells a story.
2. Your hair is your frame.
3. If you jack someone's hair up, the world will see it. Lol
4. For me braiding hair is an intimate thing, it's like getting up close and personal and I like to do it for people that I know, love and trust.
Watch the video here

I don't know about you, but this video makes me want to love my hair more.