Overview Khuraira
Nigerian native, emigrated to America in 1992.
One of America's most sought after Celebrity makeup Artists, a Pioneer of Hollywood originated airbrush makeup, creator of a problem/solution driven makeup line for women of all ages, color and skin condition.
A Flagship store in affluent Tenafly, New Jersey – USA
Khuraira Cosmetics: A  brand used and loved by OPRAH and countless other celebrities in the USA and beyond
Beauty insiders hail Khuraira for her innovative products as well as techniques that address women's skin regardless of age, skin tone or condition.
Her distinct style and full assortment keeps the brand featured in numerous consumer magazines and on social media.
Khuraira Cosmetics is sold at select upscale boutiques in the United States and around the globe, as well as on a prominent TV shopping network, ShopNBC.
Khuraira innovative K-PRO Airbrush makeup system is a part of the Curriculum of Top Beauty schools in the USA and hailed as one of the best overall.
Cause initiatives: Khuraira supports breast cancer survivors, sickle cell anemia, and education programs for African youth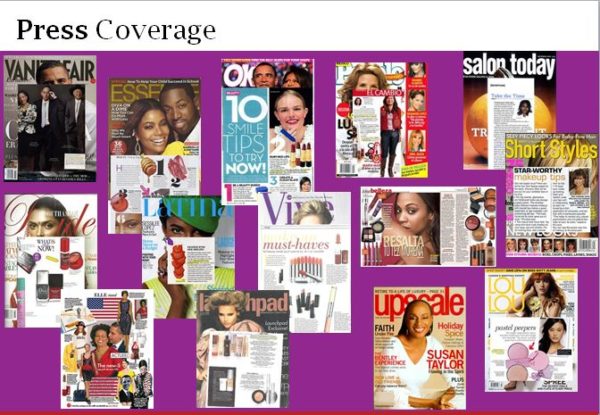 Origins & Founder
A pioneer and celebrity makeup artist of over 20 years, Khuraira Musa is founder and creator of Khuraira Cosmetics, a luxury, full-color cosmetics line for women of all ages, color and skin condition.
Khuraira educates women in the art of the looking flawless. Not only does she make them look beautiful on the outside, she makes them feel good on the inside by being a friend and a confidante. Her business philosophy demonstrates why every woman looks forward to an appointment with her, and why she has created a cult-like loyalty among her clients over the years. One of her clients once said as a play on words to the adage, "Beauty isn't in the eye of the beholder; beauty is in the hands of Khuraira."
Khuraira's distinct style and expertise keeps her in demand. Working her magical touch, she has applied her innovative makeup techniques to some of Hollywood's most coveted and high profile personalities, including Mandy Moore, Brandy, Linda Evans, Paula Abdul, Suzanne Douglas, Kirstie Alley, Natalie Cole, Dr. Susan Rice, Andrea Stassou, Wendy Federman. Khuraira's bridal work with Trista Rehn, the Bachelorette – ABC Television Wedding of the Decade – has earned rave industry reviews.
Khuraira Cosmetics are routinely featured in leading consumer magazines and media outlets, including People, Vanity Fair, In Style, Elle, Essence, Latina, Star, OK, Upscale, TLC, Telemundo, and on TV shopping "ShopNBC".
Khuraira is grateful for her chance at success in America, which is a far cry from her humble African beginnings. Her life began in an orphanage in northern Nigeria after losing her mother at birth. She was later adopted by an aunt with little means and spent her childhood in a mud shack with no electricity and no running water. As a child, makeup was an outlet that offered a creative means to paint a view beyond her bleak surroundings. Khuraria used leaves to create henna colors for makeup. She was inspired at how the colors were so rich, opaque and filled with pigment.
Khuraira relocated to the United States to pursue her education and passion of makeup. This quickly led to a career working alongside makeup industry icons, such as Trish McEvoy and Laura Mercier. As a valuable member of Trish McEvoy's national team, Khuraira traveled the world teaching women about the hottest makeup trends as well as helping them create their unique individual looks.
Later, as a national makeup artist with Laura Mercier and one of Laura's personal assistants, Khuraira trained makeup artists in the art of achieving a flawless look every time.
In time and with vast experience, Khuraira decided to start her own color cosmetics brand. She saw an opportunity for a true makeup line for all women. Khuraira wanted to not only solve for beauty problems such as dark circles or discoloration on areas of the face and lips, but she was also inspired from concerned women who wanted to combine makeup with skincare that was quick, easy and long-lasting while still creating a flawless look every time. And so Khuraira created her own line and opened a boutique storefront to help create solutions for these women regardless of age, ethnicity or skin condition.
Khuraira's humble beginnings are at the root of her cause-related endeavors to help make the world flawless one face at a time. Khuraira Cosmetics supports breast cancer survivors, sickle cell anemia, and education for African children.
 Age Control Primer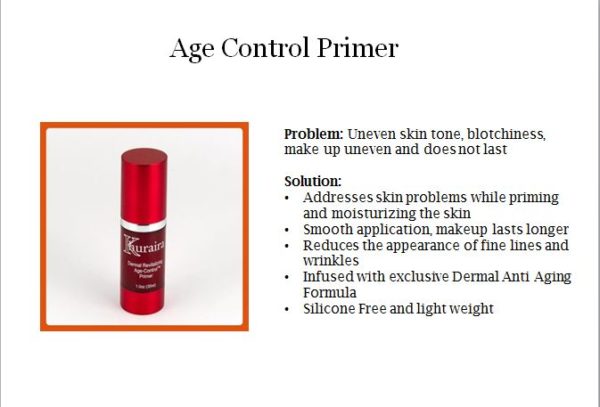 Age Control Foundation
Cake Sealant
HD Foundation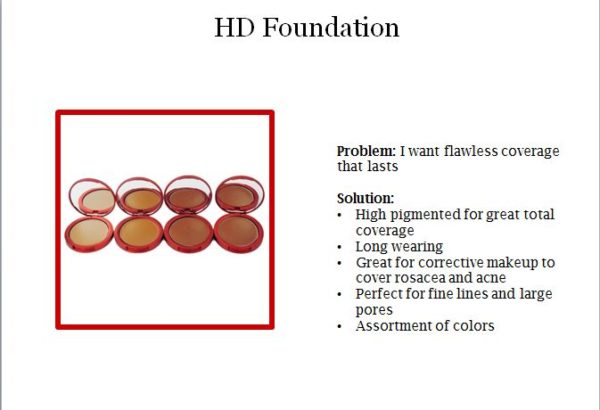 Invisible Powder
Age Control Dark Circle Primer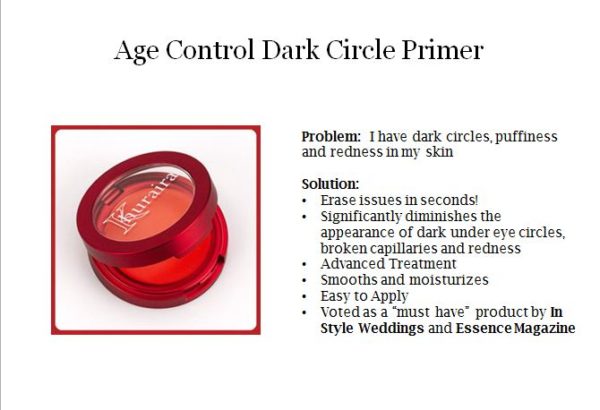 Age Control Concealer
Dual Camouflage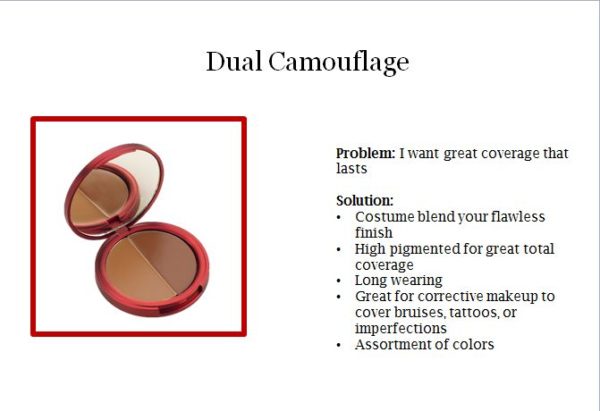 Through Cleanser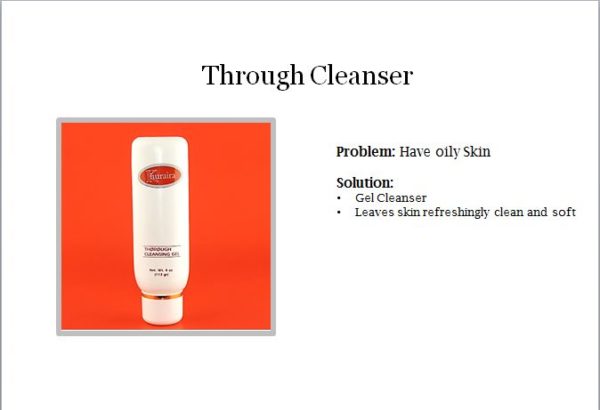 Balance Oil Lotion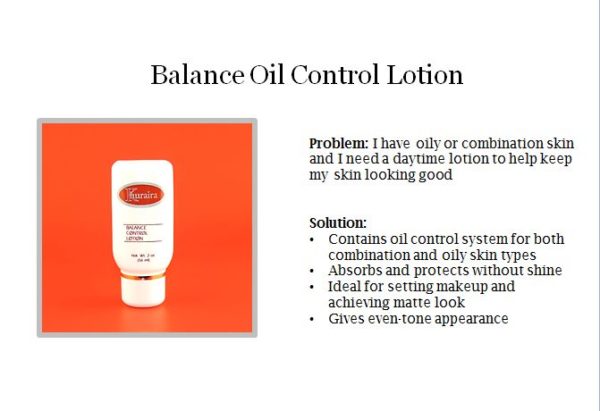 Non-Alchoholic Astringent with Aloe Vera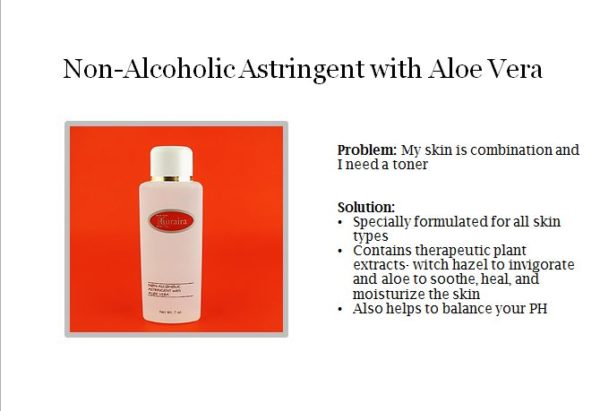 Moisture Masque
Clay Masque
Rejuvenating Eye Créme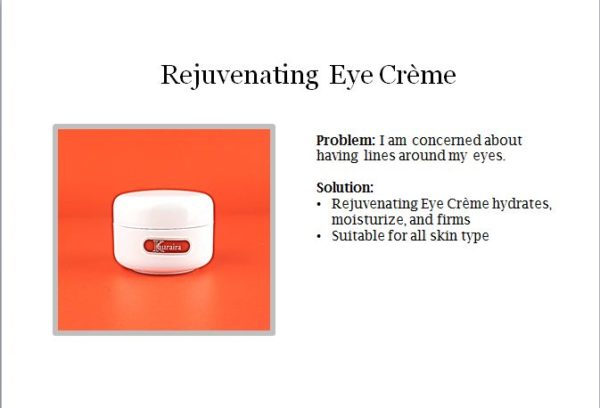 Eye Makeup Remover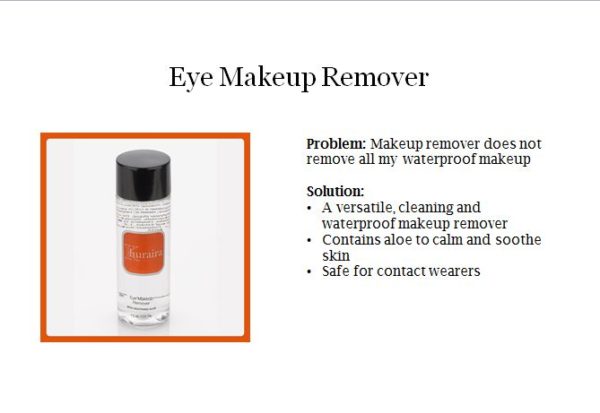 Two Way Finishing Powder
Trio Eye Color
Lengthening Mascara
Thickening Mascara
Lash Conditioning Primer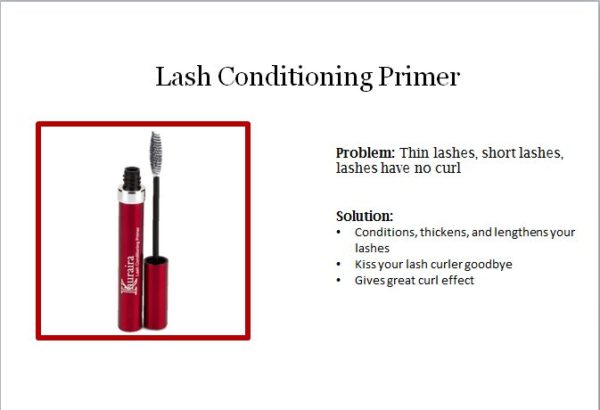 5 Palette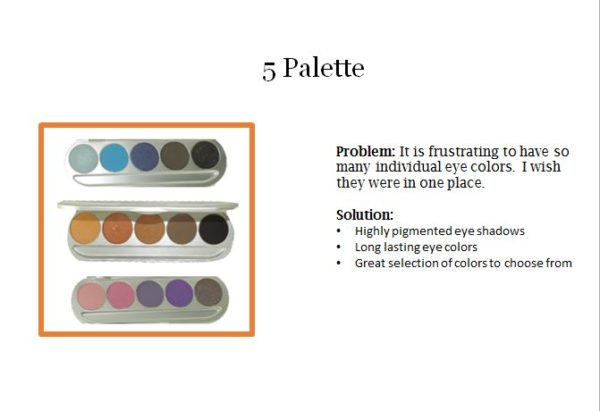 3 Palette
Brushes
Shimmer Stick
Shimmer Powder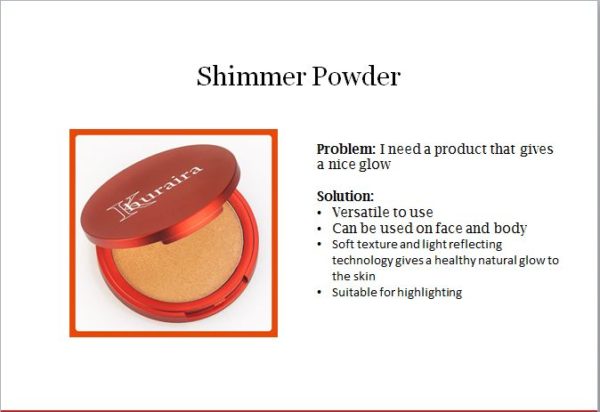 Stick Foundation
Lipstick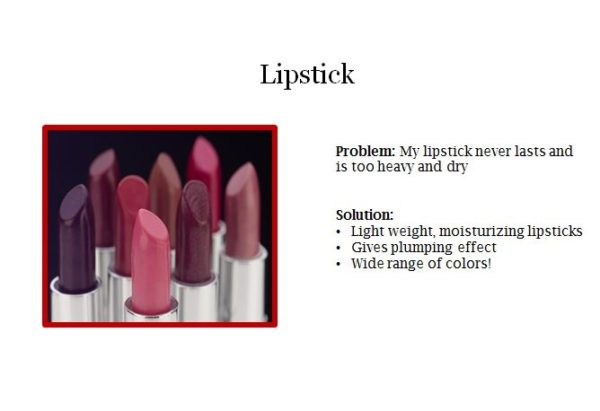 Lip Gloss
Khuraira Musa at the 2014 Makeup In Nigeria Conference (MINC)
Watch Khuraira & her cosmetics line in action below.
Makeup Artist Testimonials Around the Country
"I got Khuraira Invisible Powder, Lip Glosses, Lip Sticks, Concealers, Dark Circle Primer, Blushes, and Eye Shadows. I have used them all and I do love 'em!!! The lipsticks are wonderful. I love the pigmentation and how it glides smoothly on lips."
–Misykona, Lagos
"Khuraira HD Foundation is one of the best I have seen in texture, color, durability…. The lipsticks and the color corrector are amazing."
–Fati Mamza, Mamza Beauty, Abuja
"The powder, cream foundation, and stick foundation are soft and silky smooth, does not cake on the face and believe me when I say they are extremely suitable for the women of color and our temperate Nigeria."
"The mascara (volumizing and lengthening) are to die for."
– Dolapo Lucas, Bellezzafaces, Abuja
"I love the K-PRO Airbrush System for my brides. My clients are happy looking flawless all day long."
– Hapsy Ibrahim, Kano
"K-PRO Airbrush is the best I've used in my years of doing bridal makeup. The Foundations are lightweight and last for more than 12 hours. Other products of Khuraira Cosmetics that I love are the Brushes, Eye Shadows, and the Invisible Powder. Kano is in
love with Khuraira Cosmetics."
– Aysheer Musa, Kano
"I have been using Khuraira Cosmetics products from Eye Shadows, Lipsticks, Invisible Powder, Dark Circle Primer, for two years on my clients and they are absolutely happy with them."
– Amina, Adamawa
"I love Khuraira Balance Oil Control Lotion. It is very light weight, moisturizing, and gives your skin a matte finish which is perfect for your foundation."
– Barbara 1923, Lagos
"I am one of the pioneers of the K-PRO Airbrush System and I am very happy with it. My clients love the flawless look it creates. The Invisible Powder, Dual Camouflage, and Dark Circle Primer are a makeup artist must have."
– Estel, Calabar
"The Khuraira Age Control Concealer with peptides… I love this one, it covers up every spot and it's a nice finishing for my brow. I used it as a concealer and highlighter."
"To set everything on my face I used the Khuraira Original Invisible Touch Up Powder… it gave my face a nice finish, I also applied the Khuraira Sheer Finish Powder Blush."
– Sisi Yemmie, Lagos
Where Khuraira Cosmetics are Sold
Online Store: Jumia.com.ng
Lagos
Total Radiance Cosmetics 'n' Bodyshop
Address: Road 5 Suite J82, Ikota Shopping Complex VGC, Lekki
Phone: 08035821624 or 08023225939
Yola
Trendy Makeover Studio/Nail Bar
Address: 6 Gimba Road Jimeta-Yola
Phone: 08094566069
Abuja
Bellezzafaces
Address: Suite 383, Chief Olusegun Obasanjo Block, Garki 2
Phone: 08098001286 or 08069559833
Crestal Spa & Skin care
Address: 17B, Panama street, Maitama
Phone: 08057062268
Deva Petals
Address: 20B, Nile Street, Maitama, Abuja
Phone: 092915133
Mamza Beauty
Address: B26, The Valley Mall, Konoko Crest, Wuse 2
Phone: 08035051501
Khuraira Cosmetics is looking for serious wholesalers and retailers all over Nigeria. If you are interested email them at: [email protected] | Visit their website: www.KhurairaCosmetics.com | Follow them on Twitter: @khurairamakeup | Follow them on Instagram: @khurairacosmeticss | Find them on Pintrest: Khurairamakeup | Find them on Facebook: www.facebook.com/khurairacosmetics | Watch them on Youtube: www.youtube.com/Khuraira
__________________________________________________________________________
Advertorial – Sponsored Content