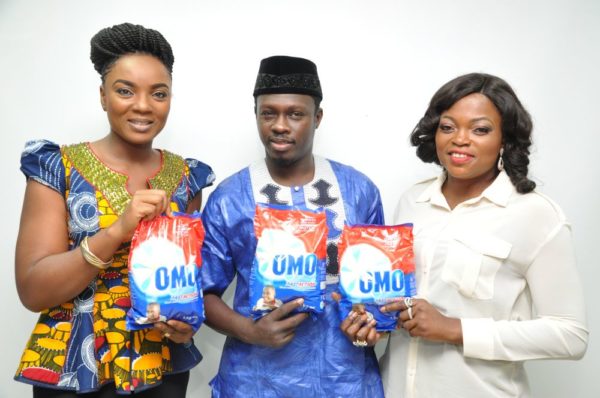 As part of its commitment to making the washing experience better for consumers, the new OMO Fast Action detergent from Unilever Plc has engaged consumers across Nigeria with new ambassadors – Funke Akindele, Ali Nuhu & Chioma Akpotha.
According to the Brand Building Director, Unilever Nigeria, David Okeme – "No one removes stains faster than the new OMO". "The new OMO contains Max Clean particles, which penetrates deeper to tackle even the most stubborn stains, to deliver the best results. It has also been reformulated to be gentle on the hands and good for whites and coloured clothes".
He noted that Unilever products touch the lives of over 2 billion people everyday. David also added that key to the Omo brand is the commitment to the Cleaner Planet Plan – a pledge supported by several of Unilever's laundry brands, through which they're minimizing their impact on the environment. Omo has also formulated their new Omo brand to provide effective washing at low temperatures, saving energy, and saving you money.
_____________________________________________________________________
Sponsored Content