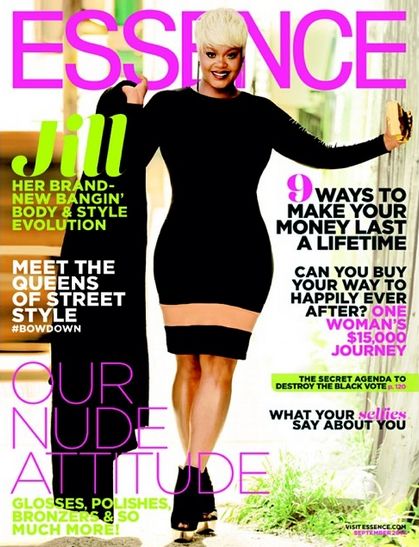 Hold on to your argan oil Naturalistas, Jill Scott is rocking a blonde pixie cut (don't worry it's a wig)!
Flaunting her new slim and fit bod on the cover of Essence Magazine's September 2014 issue, the American singer, actress and mum to 5 year old son, Jett is rocking a bodycon Ekineyo dress, her signature smile and looking fit for fabulosity.
Straight after featuring in the James Brown biopic "Get On Up", Jill is practically glowing! The reason for that glow? Jill tells Essence's Tomika Anderson that she is head-over-heels in love but isn't sharing her private life.
She said "My only job is to be happy", "So for everybody that cares about me and is not trying to be all up in a celebrity's business, just know that I'm happy. My son is happy. We enjoy our lives." Awww!
Jill is currently working on her not-yet-titled 5th album and she warns fans that it might be a while before they get new music from her. "I'm a wood-burning stove," says Scott. "It's a slow brew."
In the issue Jill talks more on her 63-pound weight loss journey, finding clothes that fit and her love for wig maker Andrea "the Dreamweaver" Burrough's 'hair hats'.
Be sure to pick up the issue.