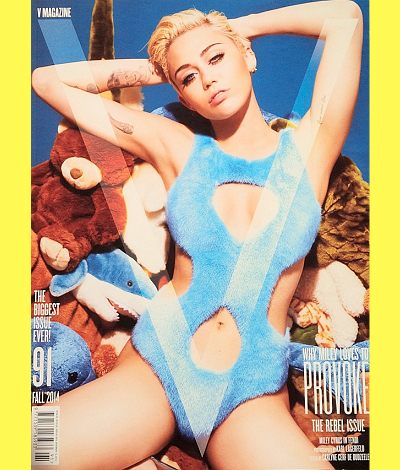 It's been barely a minute since the last time we saw a nude photo of Miley Cyrus. Well she is back to her old body-baring ways for V Magazine's "Rebel" issue.
The "Wrecking Ball" singer is seen rocking a plush fur-covered Fendi one-piece on a pile of stuffed toy animals (which was quite apt with Miley being an animal lover owning a pet baby pig "Bubba Sue" and dog) on the cover but takes it all off for the inner pages.
The issue doesn't come out till September 2014, but Miley wants us eager for the issue as she took to her Instagram account to post a teaser photo shot by Karl Lagerfeld. In the image we see a lot of the singer sprawled over stuffed toys again with a cleverly placed 'Subscribe' sign over her chest.
We can't wait to see what the issue has to share as it promises to let us in on why Miley loves to be provocative.