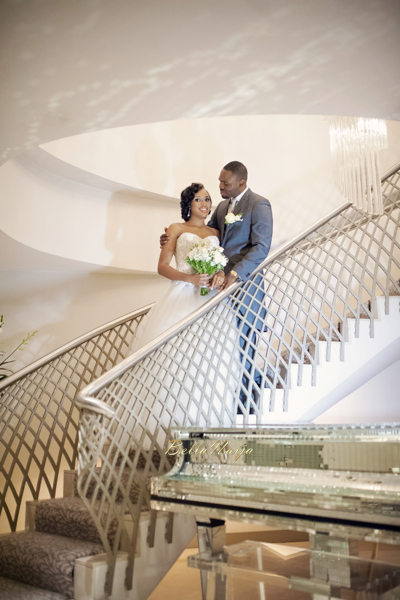 Onyekachi Anichebe & Kelechukwu Okafor aka Onyeka and KC, met at Nigerian Law School, became best friends … and then it turned into something special.
The groom proposed with a custom ring by Bobby the Jeweler, at one of the seven wonders of the world – The Colosseum in Rome, after which the bride lost her voice from screaming for joy so much … 🙂
The couple wed at one of London's most luxe hotels, 5 Star The Dorchester.
We're elated to share their elegant day with you today and we hope you're inspired! Their guests included Angela Simmons and the bride's footballer brother Victor Anichebe.
As Onyi and KC are about to celebrate a year in marriage, BN Weddings wishes they continue to have a blessed and beautiful married life!
***
~ Photography: Photography by Vicki
How Did You Meet?
by the bride, Onyeka
We met at Nigerian Law School in 2008.
One good thing came out of NLS other than being called to the bar and that is….drum roll….
Onyeka and KC!
KC likes to deceive himself by saying it wasn't love at first sight…yeah right !!! I KNOW that deep down the moment he spotted me across the auditorium that very first day of law school he could not resist Ms Anichebe. So whilst he was in denial of his love and obsession we became friends, really good friends, best of friends in fact and the rest is history.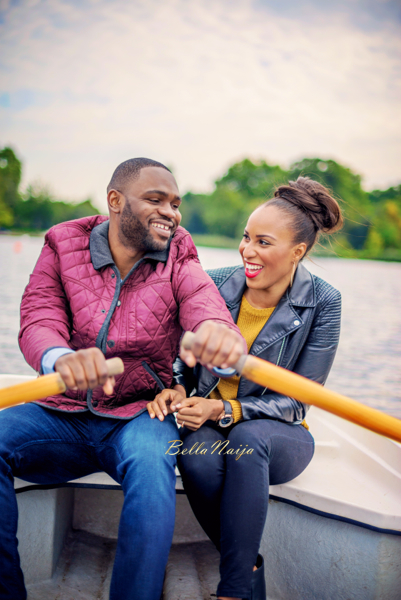 The Proposal
from the groom, KC
I suppose it is true what they say "one day you wakeup and you realize that the person who you thought was just a friend becomes the one person that you cannot live without…."
So it was December 2012, when I decided I was going to marry Onyi baby (my confidant, my lover, my heart, my best friend, my Jos tomato – if I continue, her sweet names won't finish!)

So one faithful night in February 2013, at 10pm, I called Victor (Onyeka's brother) and I told him I need Bobby the Jeweler's number because I want to customize a wristwatch for my dad. Victor being a nice boy called Bobby and told him not to charge me too much.
Unknown to Victor, it was the beginning of his journey as a brother-in-law. I spoke with Bobby and told him I need his best ring custom made in two weeks. Hahaha…he was traumatized because he was on holiday somewhere in Jamaica and it was short notice. I put him on oath not to tell Victor that I planned to take Onyeka to Italy for Valentine's and pop the ALMIGHTY question. I have to be honest; I still had cold feet about this decision and couldn't sleep properly for several nights leading up to our travel. In fact, it was when Bobby miraculously sent the ring that I realized THIS IS IT!!! No retreat no Surrender!!!
The day we were to travel to Italy, we missed our flight and I was traumatized. Somehow, we managed to get a flight for the next day and upon arrival in Rome, we decided to go sightseeing. I had always planed to propose to my future wife at one of the seven wonders of the ancient world (The Colosseum being one of them). So I made sure our first sightseeing spot was the Colosseum.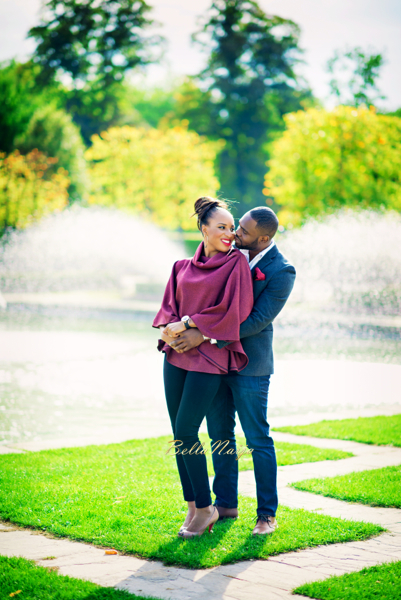 Being the ever-enthusiastic tourist I asked someone to take a picture of us in front of the Colosseum and while the pictures were taken, I got down on one knee and asked Onyeka to marry me. SHE WAS CONFUSED AND LOOKED LOST!!! Everyone on the street started cheering and clapping and asking her to say YES.
Those that know Onyeka well will know she is a DRAMA QUEEN in her Nollywood-esque role play, after screaming YES she then lost her voice for 4 hours due to being in complete shock. She spent the rest of the evening staring at her ring to the extent that she didn't sleep all night…whilst I slept so well and felt like the most amazing man in the world.
The rest now they say is history…
Wedding
***
Photography: Photography by Vicki | VICKI (at) PHOTOGRAPHYBYVICKI.CO.UK | +447545561267
Wedding Info
Wedding Date: 11 October 2013
Venues
Ceremony: The London Oratory,Brompton Road, Kensington
Reception: The Dorchester, Park Lane, London
Wedding Colours: A touch of blue and gold
Wedding Attire
Wedding Dress: Ronald Joyce
Groom's Suit: Ted Baker
Brides Makeup: Alison Cameron | @alison_cameron
Bridesmaids Makeup: Jennifer Olaleye
Bride's Hair: Avos Hair – Hair @avoshair‎
Bouquet: Cathey's Flowers
Vendors
Wedding Planner: http://www.justasplanned.net/ | mati (at) justasplanned.net
Cake: Classic Cakes
Decor: Cathey's Flowers