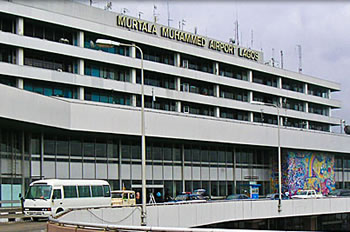 A Nigerian man who was getting ready to board a flight from Lagos to Accra collapsed and died yesterday at Murtala Muhammed International Airport (MMIA).
The man, who was identified as Akunne Osei, was waiting to collect the Yellow Card from airport health officials when he collapsed, Vanguard reports.
Osei was based in Ghana but had visited Lagos for business transactions. According to reports, he intended to return to Accra for medical treatment.
Speaking about the incident, General Manager, Corporate Communication, Federal Airport Authority of Nigeria, FAAN, Yakubu Dati, said:
"The passenger, Mr. Akunne Osei, took ill on Saturday, August 9 and started stooling. When the situation got worse, he called his doctor in Accra who instructed him to return to Ghana immediately for further treatment.
"During boarding formalities for his return trip to Accra, at the MMIA, Mr. Osei, who had become weak was subjected to Ebola virus test by port health officials, the result of which was negative.
"No further attention was paid to him after his Ebola virus result read negative but the passenger later slumped and died around the port health office."