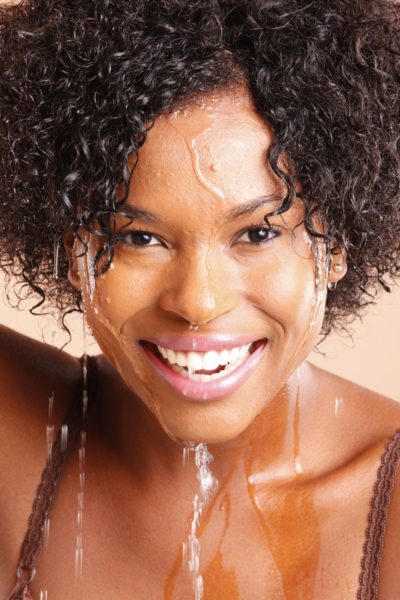 Surprises are either pleasant or unpleasant and getting caught in the rain is a very unpleasant surprise.
Close your eyes and just think about it – black streaks on your face from mascara and liner, white and pink streaks on your face too from foundation and concealer (all mixed with the black streaks), hair clinging to your face, lipstick streaks all over your lower face from trying to get the strands of hair off your face. In general just picture looking a hot mess!
You might be asking – is there a way to avoid this happening? We can't stop it from raining but hell yeah, we can help you avoid looking like a hot mess in the rain. Here are a couple of steps to ensuring you stay beautiful all day – come rain or sunshine.
1. Mattify your base
Matte moisturisers, primers and foundations were created for a reason. Use them. Most of them contain silicone which is just supposed to keep the sebum from your skin glands away from the surface of your face; it is also a basic sealant against water and air. Which means the rain will just run across your skin without moving your makeup.
I recommend Khuraira Balance Control Lotion (Moisturiser), Smashbox Photo Finish Primer (Face Primer) and NARS Sheer Matte Foundation, Dermablend Cover Creme (Foundation)
2. Waterproof that under eye
Waterproof under eye concealers exist. As difficult as it is to believe, they really do. The downside though is that, along with other matte products, it can be really drying. Thus, it is important that a good eye cream be applied to that area prior to concealer application. Concealer should be applied gently with the pad of the ring finger, making sure that the product is applied gently but firmly.
We recommend Maybelline Cover Stick Corrector Concealer, Makeup Forever Cover Creme
3. Creme it or Gel it
It is a well known fact that water doesn't move oils, creams or gels. Those with especially thick consistencies are even harder to move. Thus, cream eyeshadows and blushes or even gel liners are the best – and so say we all. Apply them with your finger or a synthetic brush. Don't forget to blend out the edges too, you will be pleasantly surprised how easy it will be.
We recommend – Makeup For Ever Aqua Cream Eyeshadows, Tarte Precious Gems Limited Edition Cream Eyeshadows, Maybelline Color Tatoo 24hr Gel Cream Eyeshadow (Eyeshadow), Makeup For Ever High Definition Blush, Revlon Photoready Cream Blush (Blush) and Asta Gel Liners (Gel Liner)
4. Lay your brows down
You really don't expect to use your regular matte powder for your brows when it's raining do you? Use a gel or cream product along with an angled brush to fill them, then finishing up with clear mascara across it to seal it in place.
We recommend – Anastasia Dipbrow Pomade, Makeup For Ever Aqua Brow and BarryM Liquid Eyebrow Marker
5. Get a stain
As much as we all love our cream and satin finish lipsticks, we are going to have to ditch them. Without a base for lipsticks, they move on our lips especially after eating or drinking. They are also transferable which means re-applying in the course of the day especially after being caught in a heavy downpour. Switch to lip stains, just like regular stains are hard to remove, lip stains are pretty difficult to take off too. Unfortunately they are not very popular, but stains are more pigmented, easy to apply, non-transferable, smudge proof and top on our list, waterproof.
We recommend – Smashbox Limitless Lip Stain, Benefit Benetint and Covergirl Outlast Lip Stain
6. Seal it up
There is nothing like carefully getting your makeup done and having something go wrong just because you skipped this final step – the setting spray.
We recommend Model In A Bottle Setting Spray, Skindinavia Moisture Lock Makeup Setting Spray and Makeup For Ever Mist & Fix
7. Waterproof mascara is key
Not forgetting our favourite water proof mascaras for long, fluttery lashes. Yes, even in the rain.
We recommend Lancome Definicils Waterproof mascara, Bobbi Brown No Smudge Mascara and Maybelline NY Lash Discovery Mini Brush Waterproof Mascara
Watch more tips on how to ensure your makeup is waterproof and be sure to share your experience with us in the comments.
Watch this easy waterproof makeup tutorial from My Natural Sistas

Let's go back in time to 2012 and learn the secrets to waterproof makeup by Lancome. Watch!

Photo Credit: Rui Dias Aidos | Dreamstime.com
Video Credit: Lancome, My Natural Sistas