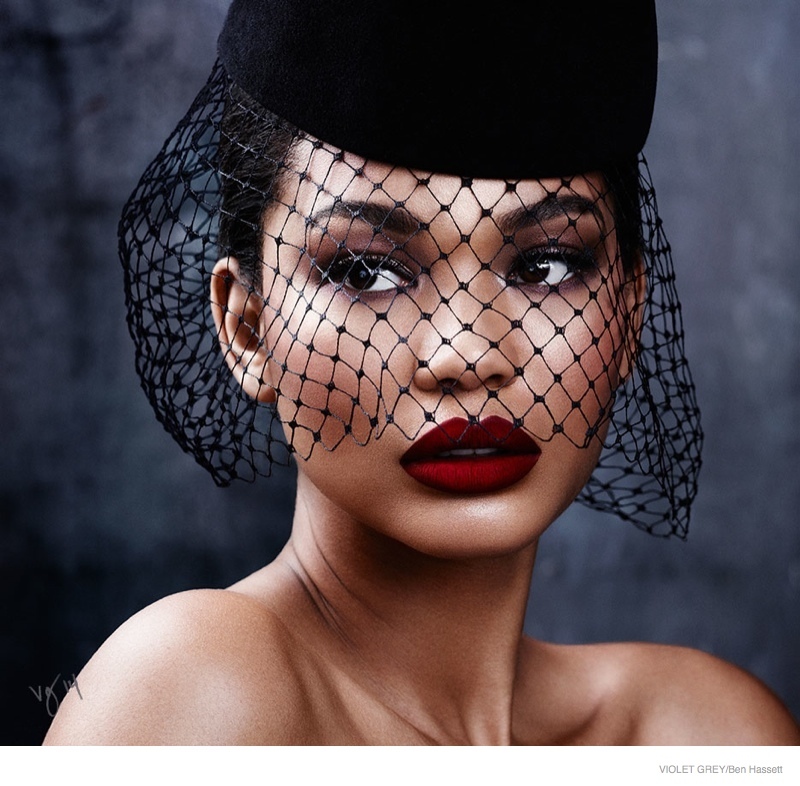 She's young, stunning and is channeling iconic beauties for Violet Grey.
Chanel Iman is striking fierce poses for the beauty editorial, doing her best to remind us of classic beauties like Bianca Jagger, Josephine Baker and Linda Evangelista in a character study of lost glamour.
That's not all, she is also letting the mag into a her personal life – something we haven't seen a lot of.
The 23-year-old tells the magazine about learning to say no when she first started modelling, how she's an unapologetic flirt and her thoughts on her future.
On saying no
When I first started [modeling] I was very young. I was like this little doll that everyone just played with. So I could look really good or really horrible depending on who got their hands on me. But as you grow as a model, you figure out what works for you and you learn to say, 'Ok, you can't do this, you have to DO this.' People can think you're being a diva but you're not. I used to go to bed crying because I knew I could look better than how they were making me look. So I had to learn how to stand up for myself in that way.
On being an unapologetic flirt
I flirt all the time without even realizing it. I have to watch myself. I'll flirt at work. I'll flirt on vacation, at a restaurant. It doesn't matter. As long as I feel a connection with somebody, I'm down for a flirt. Of course, it's all innocent and it doesn't lead to anything. But what's life without flirting?
On her modelling future
I'm 23 right now and I feel like I'm still trying to figure it out. Maybe in another two years I'll have it all together. So maybe 25 is the age at which a woman feels her most beautiful just because she's survived her teenage years and early twenties.
To see more images from the shoot and the rest of the interview, click here.
Credits
Photography: Ben Hassett
Makeup: Violette
Hair: Tomi Kono
Nails: Alicia Torello
Styling: Elizabeth Sulcer
For more information, visit www.violetgrey.com