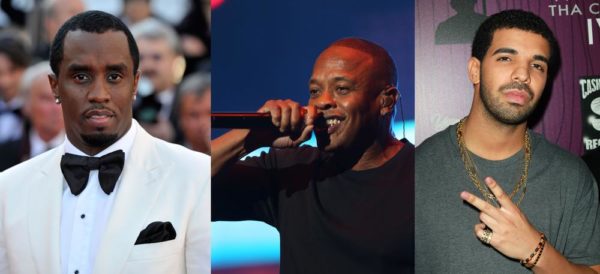 They started from the bottom and now they are here!
Dr. Dre, Jay Z, Drake, and Diddy are the world's highest paid hip hop acts of 2014, according to Forbes.
Dre has earned a whopping $620 million. Even though he hasn't released an album in a while, he is the highest paid act due to Apple's $3 billion purchase of his "Beats by Dre" product line.
Jigga and Diddy come in second with earnings of $60 million. With $33 million, Drizzy is the third highest earning Hip Hop act.
Nicki Minaj earned $14 million, making her the 11th highest paid Hip Hop act, and the only female rapper on the top 20 list.
See the full top 20 list below:
1. Dr. Dre – $620 million
2. Jay Z (tie) – $60 million
2. Diddy (tie) – $60 million
4. Drake – $33million
5. Macklemore & Ryan Lewis – $32 million
6. Kanye West: $30 million
7. Birdman: $24 million
8. Lil Wayne: $23 million
9. Pharrell Williams: $22 million
10. Eminem: $18 million
11. Nicki Minaj: $14 million
12. Wiz Khalifa: $13 million
13. Pitbull: $12 million
14. Snoop Dogg: $10 million
15. Kendrick Lamar: $9 million
16. Ludacris: $8 million (tie)
16. Tech N9ne: $8 million (tie)
16. Swizz Beatz: $8 million (tie)
16. 50 Cent: $8 million (tie)
20. Rick Ross: $7 million (tie)
20. J. Cole: $7 million (tie)
20. DJ Khaled: $7 million (tie)
20. Lil Jon: $7 million (tie)
20. Mac Miller: $7 million (tie)
Photo Credit: Getty Images