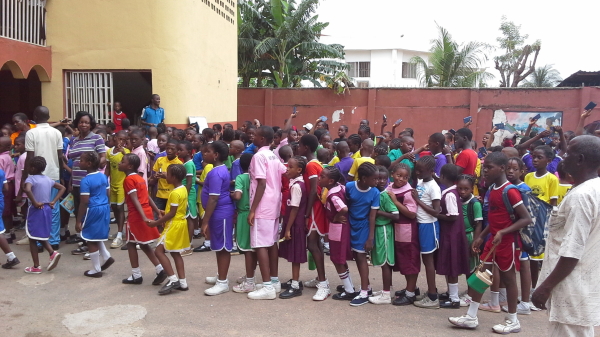 Jos (NAN) – Public and private schools in Plateau complied with the Federal Government directive to resume on Monday.
NAN correspondents, who visited some schools in Jos metropolis and its environs as well as in Pankshin in the south of the state, however, observed that the turnout of students was very low.
Some school officials, who spoke with NAN, however said that the low turn was nothing new since it was the usual occurrences in the first days of resumption.
Juliet Davou, the Principal of Government Secondary School, Jos, whose school recorded a low turnout, told NAN that the turn-out would not affect the academic activities.
"We shall start classes in earnest; we met with the staff this morning, and directed them to organise their lesson notes and other teaching materials immediately to commence their school calendar,'' she said.
She said also that most part of the week was always used for sanitation purposes to make the school environment conducive for learning.
On efforts to protect the students against the Ebola Virus Disease (EVD), Davou said that two of teachers were trained on how to identify suspected cases.
"Those trained were equipped with Information Education and Communication (IEC) materials to detect any symptom and also enlighten staff and students,'' she said.
At St. Luke's Primary School, Jos, very few students resumed on the first day, but the Assistant Headmistress, Nafisatu Akaso, said that teachers had complied with the directive even though the pupils were hardly seen in the school.
She said that the students have stayed for too long at home and promised academic activities would promptly resume to regain lost time.
On her part, Grace Piomoki, the Proprietress of Grace Ville Christian Academy, Hill station, Jos, said that more than 50 per cent of students had resumed.
She said that teachers had been trained on handling suspected Ebola cases, explaining that those trained were already training their colleagues.
Piomoki said that her school had complied with the precautionary measures taught during the two-day workshop organised for teachers to aid the handling of the any situation.
Commenting on the resumption, the state Commissioner for Education, Athanasius Dashen, said that the state had complied with all the directives of the Federal Government.
He noted that the state had constituted its Ebola committee headed by the Commissioner for Health, to sensitise the public on the virus.
Dashen added that schools have been mandated to establish hygiene clubs in their schools to facilitate good sanitation habits and ensure elaborate enlightenment on various diseases.
The commissioner said that the state was awaiting the delivery of thermometers and other apparatus needed to monitor students in school later in week.
"The items have been ordered by the ministry of health and will soon be here,'' he said.
 Photo Credit: Tru9ja/Dreamstime.com