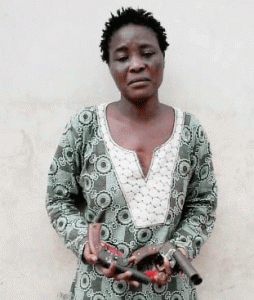 The Special Anti-Robbery Squad (SARS) has arrested a Lagos-based woman for allegedly selling guns to robbers.
Vanguard
reports that the 34-year-old mother of two, named
Sarah Emmanuel
, used to be a hawker of wares before she delved into illegal arms dealing. She is also said to be a robber's wife.
She was arrested after robbers revealed during a police interrogation, that she was the individual who sold arms to them.
Authorities say Emmanuel was in the arms-selling business with her friend,
Modinat.
They often traveled to a border town
between Benin Republic and Nigeria where they purchased locally-made guns and re-sold them to robbers.
However, Emmanuel has denied the allegations, stating that only accompanied Modinat to buy arms on just one occasion.
"I was arrested because my friend Modinat escaped. We have been friends for six years. She asked me to accompany her to Idiroko where she told me of her plan to purchase a gun for one Ismaila, her armed robber lover from whom she collected N25, 000. I only accompanied her to Ifonyin once….
I am a widow and my husband, who was an armed robber was killed by police, we were married for ten years but I didn't know he was an armed robber before he was killed.
If the police release me I will assist them to arrest my friend Modinat," she said.