Hello #MCM!
Today we have 6 feet, 5 inches of chocolate goodness, celeb and personal trainer Dominic Mudabai, better known as Dominic Wung.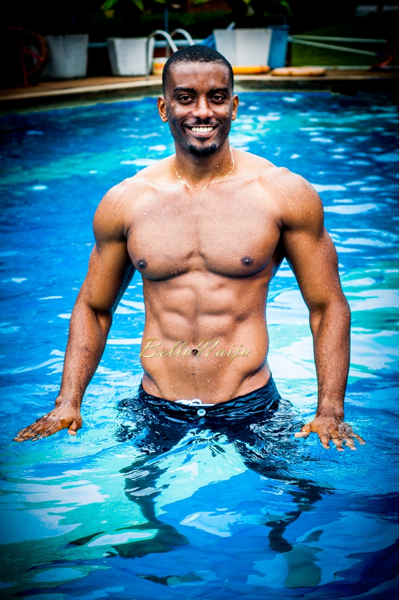 Born on September 16, 1985, Dominic is an indigene of Ibusa, Delta State; born in Bauchi, but bred in the metropolitan city of Lagos. He is an Alumnus of the University of Lagos where he bagged a BSc in Real Estate, before he discovered his passion for fitness and exercise.
The 6ft'5in founder of "WungFitness"; a health, fitness, wellness and lifestyle brand, established a name for himself a couple of years ago when he won the 4th season of Nigeria's one and only survival reality show, Gulder Ultimate Search. After appearing in commercials etc., he co-hosted seasons 9 and 10 of Gulder Ultimate Search where he mentored the contestants.
Dominic offers private fitness trainings, group fitness trainings, workout DVDs, physical/ sports education trainings and talks to schools and corporate institutions as part of their corporate wellness programs.
Dominic's future plans include development of his specialty fitness television show and launching a world class multi level fitness establishment called the "The Wung Center". This Ultimate Man is determined to add value to the lives of people.
Dominic plans to build the largest fitness brand in Africa and we definitely think he is one to watch…
Want to contact him? Instagram: @dominicwung | Twitter: @dominicwung
Photos: Sunflower Communications