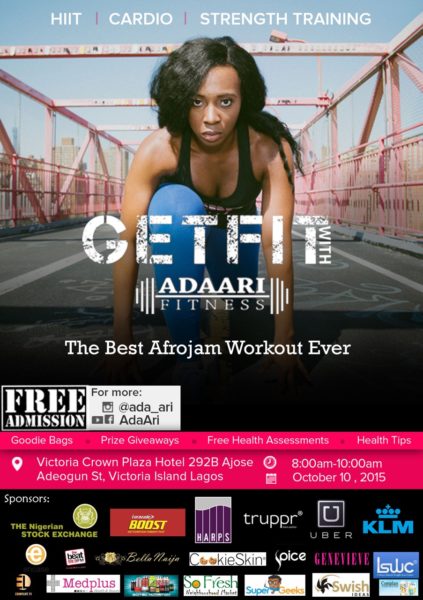 Imagine a different type of workout – you get a great workout to the hottest Nigerian tracks today. Take the energy, style, rhythms and beats of our music and apply it to the latest in fitness techniques, you get 'Get Fit With Ada-Ari' – a workout so fun you don't realise you've been working out until the end when you're pouring with sweat.
It's a completely different experience from watching the videos at home. You actually get to come and work out with Ada-Ari and a cool group of people. The lights are dim, the music is loud, the energy is high, and the motivation is through the roof. Ada will be on stage with her fitness instructor team, as well as your favourite fitness instructors and personalities including Dominic Wung, Maje Ayida and Kate Henshaw. It is just a powerful experience when you get a group together like that.
It's going to be a lot of fun. The sponsors have really come through with some really cool giveaways (that even Ada wants!) for our goodie bags. Ada also has competitions on social media where you can win additional prizes including an UnderArmour package, Samsung Gear Fit smart watches, and other amazing things! Health screenings are also available to all participants. This event is endorsed by the Lagos State Ministry of Health, and they will deliver the opening remarks.
#GetFitwithAdaAri is hosted by Tee A the comedian.
Date: Saturday, October 10th
Time: 8 AM to 10 AM
Venue: Victoria Crown Plaza Hotel, Victoria Island, Lagos
The event is made possible by our generous sponsors and partners:
HAR.P.S. KLM, Truppr, Uber, The Nigerian Stock Exchange, Lucozade, SoFresh Market, BellaNaija, Beat FM, Genevieve Magazine, MedPlus, Encase, Swish Ideas, Scitec Nutrition, EbonyLife TV, LSWC, Cookie Skin, SuperGeeks, Complan, and Spice TV.
Oh and it's all free! So what are you waiting for? Come on over, feel the burn and have a good time. See you on Saturday!
_________________________________________________________________________________________________
Sponsored Content