Antiseptic brand Dettol launched the "Give Life a Hand Campaign" on Tuesday 14th October in Lagos to commemorate the 2014 Global Hand washing Day (GHD) and further strengthen its commitment to improving the best hygiene practices and hand washing habits in Nigeria.
"Give Life A Hand" is a global campaign aimed at raising awareness on the importance of hand hygiene in the prevention of needless deaths of children under the age of five from preventable illnesses such as diarrhea and acute respiratory infections, often caused by poor hygiene.
Speaking at a media parley, Rahul Murgai (General Manager, West Africa, Reckitt Benckiser) said "as Reckitt Benckiser, makers of Dettol, our global vision is to have a world where people are healthier and live better. In achieving this, we will continue to make a difference by giving people innovative solutions for healthier lives and happier homes."
Lending their voices to the Campaign, Nollywood stars, Patience Ozokwor, Omoni Oboli were at the media parley to amplify the message of hand washing with soap and show their support for Dettol.
According to him, Dettol has been at the forefront of providing health and hygiene messages via its products and initiatives to Nigeria for the last 50 years.
"Keeping in line with the spirit of our vision and heritage in Nigeria, we initiated our "MOMentum" campaign in 2014; a pledge to save 10 million lives helping Nigeria reach its Millennium Development Goals in terms of reducing infant mortality rate. As the next step to our commitment to improving the awareness of best hygiene practices in Nigeria, we are delighted to launch today our new "Give Life A Hand" campaign in Nigeria", he added.
While shedding light on Dettol's involvement in the Global Hand washing Day Initiative, Oguzhan Silivrili (Marketing Director, West Africa, Reckitt Benckiser) said the campaign has been carefully conceptualized to amplify the key message of this year's Global Hand washing Day, with the theme "Choose hand washing, choose health".
"According to a consumer study, regular handwashing is only limited with 4% in Nigeria. Regular hand washing is the first line of defense from preventable diseases like Diarrhea, to the latest menace of Ebola Virus Disease. If we want to protect our children from getting sick, the first thing to do is to educate them about washing their hands properly."
"Promoted on a wide enough scale, hand washing with soap can be thought of as a 'do-it-yourself' vaccine because it is easy, effective, and affordable. Ingraining the habit of hand washing could save more lives than any single vaccine or medical intervention. A vast change tilting towards hand washing behaviour is therefore critical to meeting the Millennium Development Goal of reducing two-third of deaths among children under the age of five by 2015", Silivrili added.
Silivrili continued that "Give Life A Hand" campaign will be specifically leveraged through the social media platforms to intensify the education of many more Nigerian children on healthy hand washing habits via the Hashtag #handfie.
In the same vein, Ahmed Wahap Shah (Dettol Marketing Manager, West Africa, Reckitt Benckiser) said Dettol has been already running mass consumer education programmes to educate the moms and their kids about the hand washing habits.
""Give Life A Hand" campaign will be an add-on to the existing programmes to reach out to millions more through the power of Digital", Ahmed stated.
"For every #handfie shared via social media platforms, Dettol pledges to educate a child in Nigeria on healthy hand washing habits. The more #handfie shared, the more kids will be educated. The process is open to everyone and simple as taking a picture of clean hand(s), and upload on Twitter, Facebook and/or Instagram using the Hashtag #handfie", he said.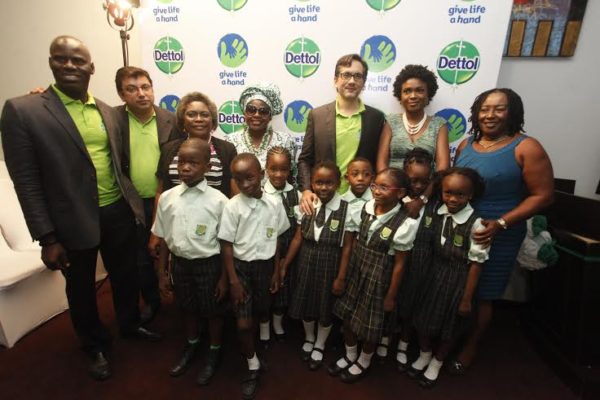 ________________________________________________________
Sponsored Content