Yesterday, BN brought you the news about a man who abandoned his three children at an Ogun State boarding school for eight years because he couldn't afford to take care of them.
The father, Segun Adepegba, spoke to Punch yesterday about the rationale behind his actions.
He stated that dire hardship pushed him to abandon his children.
In addition, Adepegba said he hadn't visited his children for years because he was scared that school authorities would get him arrested because he hadn't been paying the children's school fees.  However, he promised that he would go and visit them before the end of next week.
"In 2007, my wife and I had a misunderstanding and she told me she was leaving me. I was frustrated and the children were little. Seyi, the youngest was just two years while Titilola was just five.

There was no way I could give them motherly care. I had no job. As a man, I needed someone to help me take care of them and that was why my sister suggested that we enrol them in a boarding school.

I feared that if I suddenly appeared at the school, the proprietor would get the police to arrest me. I really appreciate the proprietor of Solid Rock Model College, for coming to my rescue and accepting the responsibility to help me take care of  my children. The truth is this: I was pushed to the wall. I didn't want my children to be beggars on the street.

All these years, I have been jobless. I had no house to live in. I was putting up with someone. I just rented a one-room apartment and just got a job. I am not a wicked father. I really miss them but I am gradually overcoming the challenges I have been facing. I did not abandon them in that sense. I can assure you that before the week runs out, I will visit them," he said.

He also revealed that ever since his wife left him in 2007, he has not heard from her, and all efforts to make contact with her have been unsuccessful.
The school proprietor has reportedly assured Adepegba that he is welcome to visit his kids anytime, as the school has no plans of getting him arrested.
According to reports, his children expressed joy at the prospect of seeing their father again after so many years.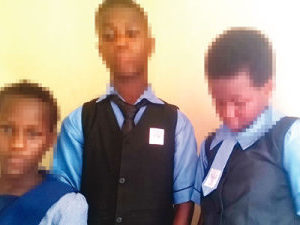 "I am very happy that daddy has promised to come back. It means I would not have to spend my holidays in the school again," said one of the children, named Seun.
"I hope this is not another promise that will fail. I am really looking forward to seeing him because it will make me very happy," added Titilola.

Photo Credit: Punch