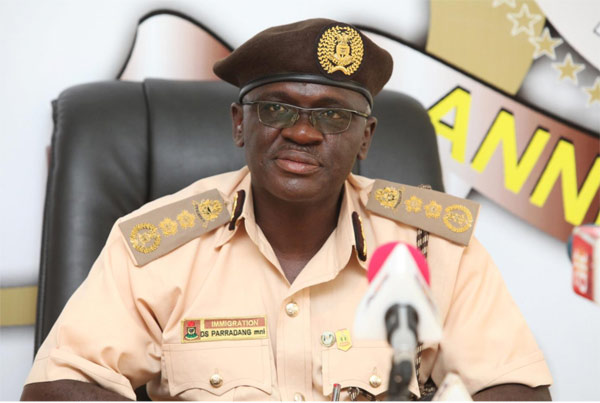 The Nigerian Immigration Service (NIS) in Abuja on Wednesday said that 7,836 Nigerians were prevented from travelling out of the country from January to June.
The NIS Public Relations Officer, Chukwuemeka Obua, made the fact known  at a media session of the Forum of Spokespersons of Security and Response Agencies hosted by I-Nigerian Initiative in Abuja.
Obua said that in addition, 4,896 Nigerians were deported from various countries world within the  period.
He gave various reasons why the Nigerians were refused permission to leave the country, including  doubts concerning their motives and possession of conflicting traveling documents which might lead to their destination countries to refuse them entry.
Obua said that in the first six months total arrival and departures from Nigeria was  2.2 million made up of 1,181 departures and 1.1 million arrivals into the country.
 "Of these figures, 3,825 foreigners were repatriated and 19,668 foreigners refused admission into the country, while 1,917 Nigerians were refused admission abroad," he said.
Obua said that to make the business of border patrolling/policing more effective, the service embarked on specialised training of the Border Patrol Corps .
He said that the renewed border patrols had achieved a lot of successes which included the interception of foreigners with both national identity cards and voter's card.
The NIS spokesperson said the service had also created 30 more Control Posts and additional 27 Patrol Bases to cover the flanks of the Control Posts.
He said that the service had procured and distributed 59 four wheel jeeps, in addition to All Terrain Vehicles, communication gadgets and portal cabins to accommodate officers and men at their patrol bases.
Obua said that 1,427 officers of the NIS were participating in the Joint Task Force in the war against terrorism since July, 2011.
He said that NIS lost 40 officers to the activities of insurgents and terrorists apart from many others who were wounded.
"NIS has also taken disciplinary actions against some of its men found to have behaved below the minimum ethical standards.
"Ten officers had their appointments terminated, two were demoted, another four got warning letters while two were discharged and acquitted of the offences for which they were charged," Obua said.
Earlier, Ada Aplafi, the National Coordinator of I-Nigerian Initiative said the interaction was crucial as it was an avenue for Nigerians to know what the NIS was all about.