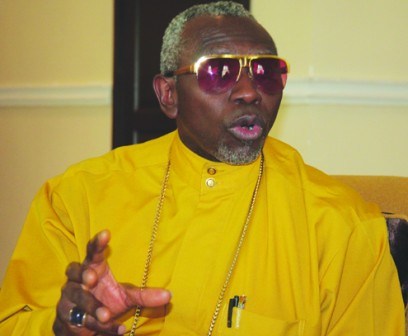 Pastor Ayo Oritsejafor, the President, Christian Association of Nigeria (CAN), on Wednesday urged politicians seeking political offices to pursue such ambitions with the fear of God.
Oritsejafor made the call on Wednesday at the 60th birthday anniversary and thanksgiving of Emmanuel Uduaghan of Delta, held at the First Baptist Church in Warri.
He decried a situation where politicians enter into fetish covenants in a desperate attempt to win elections, pointing out that such was not good for the nation.
"As a man of God, I feel sad when I hear educated people say they are going back to their culture; I am not against such, but I am against celebrating fetish things.
"People buy cows, drink feltish substances and make a lot of sacrifices to win elections.
"This is wrong and definitely not good because we are doing evil to our foundation," he said.
Oritsejafor, who is also the founder, Word of Life Bible Church in Warri, decried "wickedness and impunity" by political office holders, and attributed it to the absence of the fear of God.
"Wickedness is the reason why we are where we are today as a nation; people must turn away from this evil because it hinders growth," he said.
Oritsejafor advised the rich in the society to empower the poor so as to make life bearable for them, noting that there was always a reward for giving.
The CAN president implored Christians to consistently thank God for keeping the nation, stressing that such attitude had always opened doors for more blessings.
"Thanksgiving is the womb that carries expectations; it energises our future. If we serve God with thanksgiving, He will make our enemies a footstool.
"It is always good to give thanks because right now, some people are in the hospitals and cannot even move. We that are healthy are not any better than them.
"Thanksgiving is about what God did yesterday, has done today and what we are expecting Him to do tomorrow," he said.
Uduaghan, in his remarks, thanked the people, especially the spiritual leaders and traditional rulers for felicitating with him on his birthday, particularly thanked Oritsejafor and "God-do-well Awomakpa'', for their contributions to his success.
The governor promised to empower more women in Delta, pointing out that most of them had contributed immensely to his administration's success.
"Sixty years is not a joke. I have a lot of testimonies because God lifted me from nowhere to somewhere. I will always give thanks," Uduaghan said.
Among dignitaries at the service were former Secretary to the government of the federation, Olu Falae, James Manager, Ifeanyi Okowa, Amos Utoama, traditional rulers and many others.