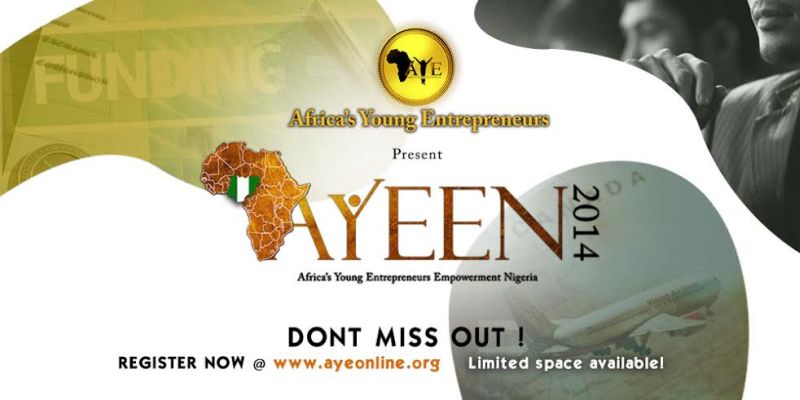 Are you a young entrepreneur? Are you between the ages of 18 – 45? Do you need smart business skill training and funding for your business? Do you have what it takes to move African forward?
Africa's Young Entrepreneurs bring you, Nigeria Empowerment 2014 – An initiative designed to develop young entrepreneurs in Nigeria. This programme is dedicated to identifying and empowering the next generation of Nigerian entrepreneurs who will shape their country's economic and political landscape.
The goal? To enhance a culture of self-reliance and job creation within the Nigerian economy. Becoming a part of this programme will provide you and opportunity to further your business and kick starts your business idea.
Here's what you stand to gain;
– Participants will get the chance to be placed in their Web Business Campaign (WBC), providing you a platform to showcase your business to investors globally
– Participants will receive a free business skills training and mentoring by A.Y.E which will include business plan and proposal coaching.
– Participants will get a free webinar session with one of America's finest social media experts – Mandi Susman
– A.Y.E will solicit on behalf of every participant requiring international business expansion through their respective embassies.
– Participants will get free associate membership.
– Participants will receive the A.Y.E business recognition certificate which will serve as an endorsement to enhance and facilitate intra-trade among other members.
– Participants will get free websites to showcase their business or ideas to a wide audience.
– Selected entrepreneurs will be granted funds to start up or boost their business.
– The most innovative and viable business ideas will benefit from an all-expense paid trip to Canada on a two-week business skills training programme.
Registration
Registration is open from Monday 1st September – Monday 17th November 2014.
To register, click here: http://www.ayeonline.org/index.php?pg=ayeen
Auditions
Date: Monday 24th – Saturday 29th November 2014
Time: 8AM – 5PM
Venue: Lagos Country Club, G.R.A, Ikeja, Lagos
For more information you can Follow them on Twitter: @AYEorganisation
______________________________________________________
Sponsored Content