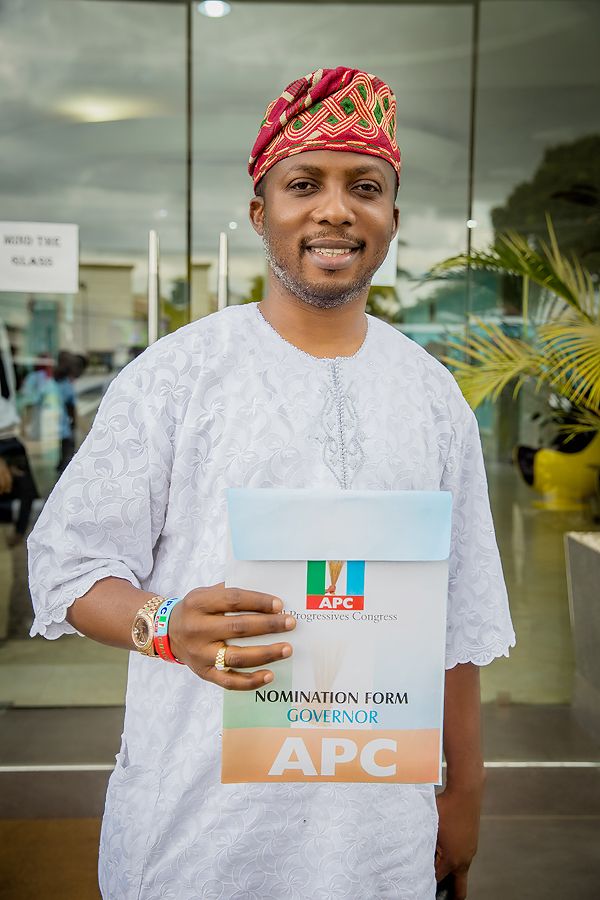 As activities heat up towards the elections in 2015, Tokunbo Philip Wahab Esq. has formally declared his intention to vie for the seat of governor in Lagos State. Wahab announced this as he picked up his form from the APC secretariat in Alausa, Ikeja, Lagos.
Tokunbo Wahab popularly called TKW, like the current governor of the state, is a lawyer of over 15 years and politician with his career in politics starting as far back as 1993 during the famously annulled national elections. Dubbed the voice of a new generation, at only 42, TKW is an Alumnus of the prestigious Harvard Kennedy School of Government and the Wharton University of Pennsylvania. He is a member of the Nigerian Bar Association and the International Bar Association. Tokunbo is a Partner at Wall and Ace where he anchors the vision after cutting his teeth at both Paul Usoro (SAN) & Co and Aluko & Oyebode, Lagos Nigeria.
Tokunbo is a strong advocate of equity and justice and passionately believes everyone deserves equal opportunities regardless of class or strata. This led him to provide countless pro-bono legal services to the poor and under-privileged right from his post-law school days and recently earned him a Lagos State recognition award presented by His Excellency, Babatunde Raji Fashola (SAN) during the Lagos Public Interest Law Partnership (LPILP) in April 2014.
According to TKW, he was born into leadership as his father Olugbenga Wahab of the Otuwunmi Ateshinmara Royal Dynasty of Ketu in Epe Local Government area of Lagos State. Popularly referred to as Dodo, was a well-known community Leader in Ketu, Epe. He died in 1998.
His mother, Muyi Wahab (Nee Sosanya Aberuagba) was a prominent Women Political Leader both in Epe and Sagamu. A dogged grassroots mobilizer, a role she employed in her tireless support for the Late Chief Moshood Kashimawo Olawale Abiola – MKO who was the Presidential Flag bearer under the defunct Social Democratic Party (SDP) for the June 12th 1993 elections. She died on the same day of the election, few hours after casting her vote for MKO.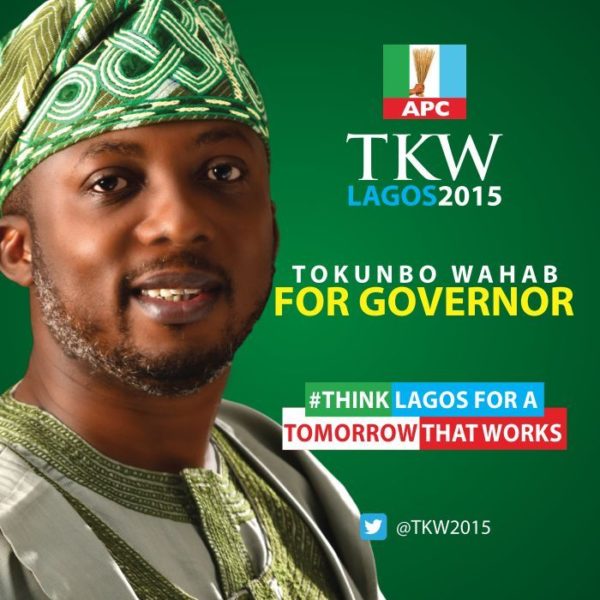 Tokunbo at the same time was also a student union leader and president of the Law Students Union of the University of Benin, leading several protests in the heat of the June 12 Democracy Struggle. As the UNIBEN Student Union Leader he came into serious confrontation with the Abacha Military Government, was physically assaulted in April 1994 thrown in to detention for weeks. This almost cost him his graduation from UniBen.
Tokunbo is an effective mobilizer of people and resources. He leaves his footprints in the sands of time where ever he has been privileged to associate, from his Epe residency constituency to Alimosho in Ikeja. In Ketu, he has participated actively in his Gbobaniyi Age-Group since his teenage years and is currently the Grand Patron. TKW is an illustrious member of the Epe Club, the prominent F's Club, Lagos and the Lagos Country Club. Tokunbo is married to Oluwatosin (nee Eso) and are together blessed with two lovely children, Omosijuade and Omofaderera. He is a Communicant member of the Anglican Communion.
A versatile and incisive legal practitioner, he has extensive experience in many areas of the legal practice. "Ours shall be a government committed to empowering all citizens not just a few, giving everyone a fair chance of success to live to the fullest of their potential", says Tokunbo. The #TKW2015 campaign aims to get young Nigerians to support the change being actualized by empowering these individuals to be career oriented and development minded.
According to his mandate, Tokunbo, intends to strengthen and deepen the peace and security while promoting aggressive infrastructure development spanning roads and power supply.
In his words he says, "It is on this humble pedigree of mine that I submit myself to serve Lagosians in the capacity of Governor on the APC platform at the forthcoming 2015 Elections. Haven been gifted by the Almighty God with the required Trust, Knowledge & Wisdom (TKW) that have earned me success in my private life, business and my community, I seek to replicate this success in the Progressive Governance of Lagos State".
Watch him talk about his #ThinkLagos initiative with this video tagged "The Lagos I See"!

#ThinkLagos…for a tomorrow that works! Eko o ni Baje o!
___________________________________________________________
Advertorial – Sponsored Content