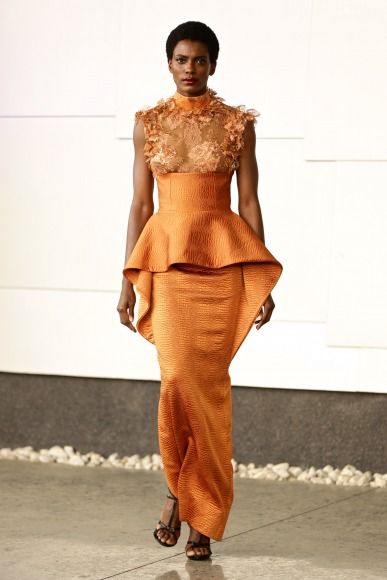 Are you ready for David Tlale? Because a few hours ago in South Africa, David showed that he was ready for you!
With a 49 pieces collection that spanned 3 sets of clothing, the South African native presented his Spring/Summer 2015 collection – "Feminine Allure" at the ongoing Mercedes-Benz Fashion Week Africa 2014.
Th collection, created for the modern African woman used Vlisoc prints, silk crepe, wool crepe, brocade, silk raffia, gold lamé, chiffon and PVC, and transformation on the classic white shirt to tell his story. Speaking on his collection, David says "This collection is about giving women back their power and equipping them with a strong sense of allure, without losing their essence and femininity". He added that "It is a celebration of a woman who's not afraid to show her soft feminine side and yet still dares to be bold and command attention".
With fitted lines, structured yet playful patterns with architectural elements, clinched waistlines, pencil cuts and more the collection fused modern style with retrospective look to the 50s, 60s and 70s.
Check it out;
Photo Credit: Simon Deiner/SDR Photography