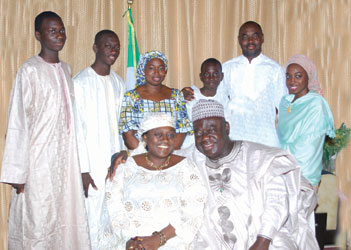 BellaNaijarians from Niger State can let us know if Governor Mu'azu Babangida Aliyu is a good governor but one thing we now know thanks to a recent interview is that the Governor is "a romantic husband."
To celebrate his 59th birthday, the Chairman of the Northern Governors Forum revealed his romantic side including how he met his wife, why he chose to remain married to one wife, how he connects with his 6 children and other tidbits.
You can read the rest of the interview via Vanguard. Excerpts below.
On How He Met his Wife
"Luckily for me, I married a woman I love and a woman I pursued for more than four years. It was like a prophecy that i was going to marry her. I made the prophecy myself. I actually went to a girl friend's house and I saw the picture of my wife and I looked at it and I said to the senior sister to my girlfriend in form of prophecy that 'this is my wife' and I asked, 'who is she.?'
"They tried to describe her and I never knew I was going to meet her. Honestly, with her photograph I saw, I just fell in love with her. When I eventually met her, she was more beautiful than what I saw in the picture," the governor stated.
Romance & No Polygamy
"Most people would want to know the rest of the story. I want to confess to you that I am a very very romantic man and, because I am a little straight forward again, polygamy was not and still not attractive to me and that is why probably I have only one wife."
On his Family Life
"I make sure I have time and discuss with my wife and children. We are always together. Whenever I travel, I buy books for my children and I usually commit them to reading them by placing prizes and other gifts for whoever finishes reading the books first. This is just to make them vast in reading and to make sure they read the books. So, we relate very well and discuss a lot. As you see me outside, so you see me at home and, in terms of romance, I am very sure my wife is very happy with me. I am very sure of that one," Aliyu declared.
On how Having 1 Wife keeps him Energetic & Focused
"There are some of us with abundant energy and, most of the time, I do not expend too much energy at home but on responsibilities bestowed on me. If I have four wives, by the time I jump from one room to another, I would have exhausted my energy but thank God I have only one wife and I have abundant energy for other jobs!"
Quite interesting.
Photo Credit: Vanguard Newspaper Online