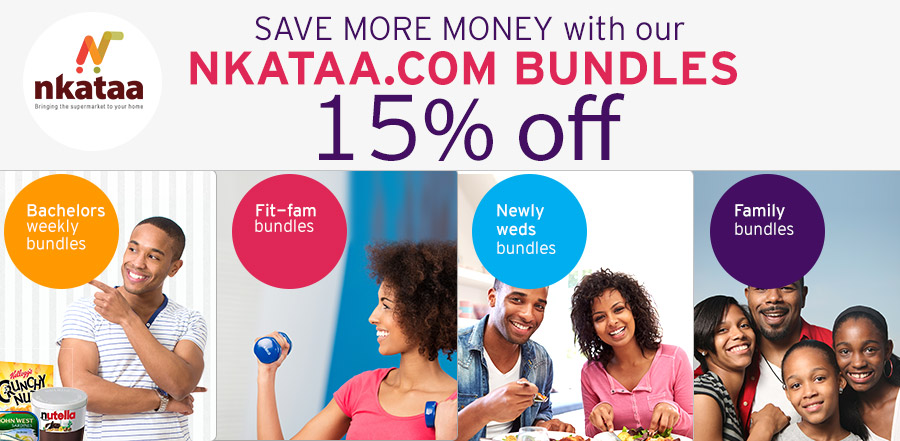 Being one of Abuja's first online grocery store, Nkataa.com has carefully selected products to suit your various needs.
Products can be delivered to anywhere within Abuja at a delivery cost of 100 Naira! ­ Be it a quick snack at your work place, food stuff for your kitchen at home or even drinks after a hectic workday , Nkataa has got you!
The vast range of products available on Nkataa.com varies from fresh fruits, vegetables, frozen seafood, poultry food and dairy products to baby care products, household products, alcoholic and non-­alcoholic beverages.
Their food products also extend to traditional cooking ingredients and fresh vegetables like 'ugwu', 'uha', 'uziza', 'achi' and locust beans (Traditionally known as 'Iru') and the likes, all available for sale on the website.
The company's main aim is to create that go-­to place that customers can bank on to purchase items they need on a daily basis with guarantee of authenticity, without stepping out of their doors. The fresh products are sourced from the best suppliers and they deliver only quality products to customers at the best prices. At Nkataa.com, they put themselves in the shoes of their customers.
Discounts? Yes! A variety of buy one get one free deals are available for grabs on some of the products. In addition, Nkataa.com recently launched some new bundles which includes a 15% discount on the checkout page.
The bundles are tailored to meet our customer's specific needs and preferences. The bundles they offer currently are 'Bachelors', 'Families', 'Newlyweds' and 'Fit FAM', which are specially designed based on customer lifestyle and product preference, thus removing the stress of having to go through the many product offerings on the website.
Are you too busy to place an order on the website? No worries, you can place your order by calling their customer care line 092910964 or sending an email to [email protected], they will gladly assist you. Payments can be made on the website or on delivery of items by cash or POS. Deliveries are made to customers within 2/3 hours.
"Nkataa has actually saved me a lot of time and energy. Ever since I discovered that my groceries could be bought online, especially fresh foodstuff that I needed on a daily basis, I automatically stopped going to the market. They deliver to my workplace and I just cross shopping off my schedule and It is convenient, no doubt!" said Mrs Helen, a Senior Bank Executive and one of the happy Nkataa customers.
Their service is geared towards ticking off market stress from your busy schedule coupled with a fast delivery system and personalized customer service which is aimed at ensuring that all products are delivered under the condition of each customer's specific orders; hence the customer notes section on the checkout page.
With the rapid evolution of e-­commerce in Nigeria, Nkataa strives for continuous innovation in every area of their business – from product sourcing to pricing. They employ technology that increases the efficiency and effectiveness of their day-­to-­day running of the business. They see through the eyes of their customers and ensure that they meet up to each customer's expectation.
Say Goodbye to market stress.
_________________________________________________________
Advertorial – Sponsored Content