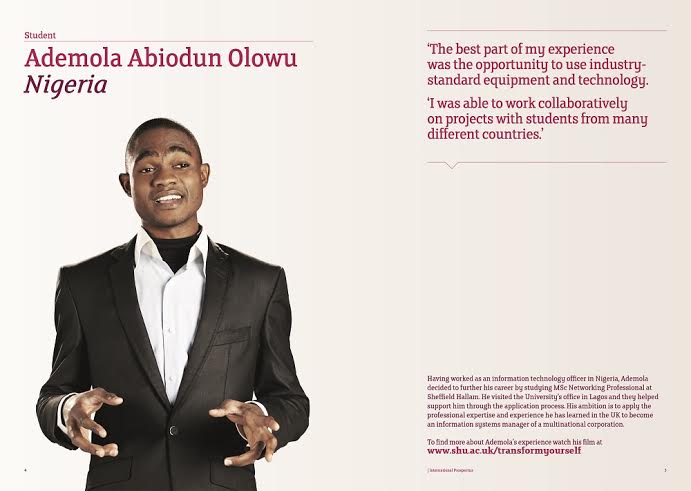 Sheffield Hallam University's Representatives will be in Ibadan and Lagos for a face-to-face conversation about course options, available scholarships and the amazing facilities and support they offer. You can meet them for admissions into courses starting January 2015.
The University, located in the city of Sheffield, UK, has also launched a discount to celebrate the opening of their office in Lagos and the growing number of Nigerian students joining their student community.
The £3,000 discount offer is for students living in Nigeria and applying for post-graduate courses starting in January and September 2015.
Participation in this meet-up is free.
See the full schedule below;
Ibadan
Date: Thursday 20th November 2014
Time: 10AM – 1PM
Venue: UKEAS Ibadan, 1st Floor, 1 Shell Close, Onireke, Ibadan
Contact: Please call 08057126779 or  027517057 | Send an e-mail to: [email protected]
2nd Location – Ibadan
Date: Thursday 20th November 2014
Time: 2PM – 4PM
Venue: PFL Ibadan, Behind Ostrich Bakery, Oni and Sons, Ring Road, Ibadan
Contact: Please call 07042924006, 08075492019 or 07031267405 | Send an e-mail to: [email protected]
Lagos
Date: Friday 21st November 2014
Time: 10AM
Venue: UKEAS VI Office, No 6, Adeola Odeku Street, Victoria Island, Lagos
Contact: Please call 01-2915972 or 08057126717 | Send an e-mail to: [email protected]
For more information please contact; Sheffield Hallam University Nigeria at their office – 3rd Floor, 76 Opebi Road, Ikeja, Lagos | Please call 08074094970 or 08074094965 | Send an e-mail to: [email protected] | Visit www.shu.ac.uk/international/
_____________________________________________________
Sponsored Content