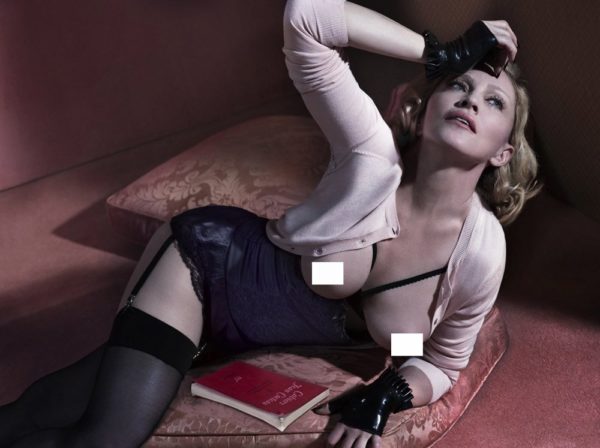 Age is nothing but a number for pop star Madonna.
The 56-year-old entertainer is featured in the latest issue of Interview magazine and there is a particular picture that shows her topless that has got the Internet buzzing all morning.
Wearing a bustier and a half-cardigan, Madonna certainly lets everything hang.
Also in the magazine, she talks about death, fear of failing, drug use and more.
Read excerpts from her interview below.
On death: "I became very obsessed with death and the idea that you never know when death will arrive, so one has to do as much as possible all the time to get the most out of life."
On failing: "I'm not saying I'm great at failing, but if you're an artist and you're in the learning process, you accept that you're going to suck at things."
On drug use: "I mean, I tried everything once, but as soon as I was high, I spent my time drinking tons of water to get it out of my system. As soon as I was high, I was obsessed with flushing it out of me. I was like, Okay, I'm done now."
You can read up her full interview and see more pictures of her shoot here.
Photo Credit: Interview Magazine