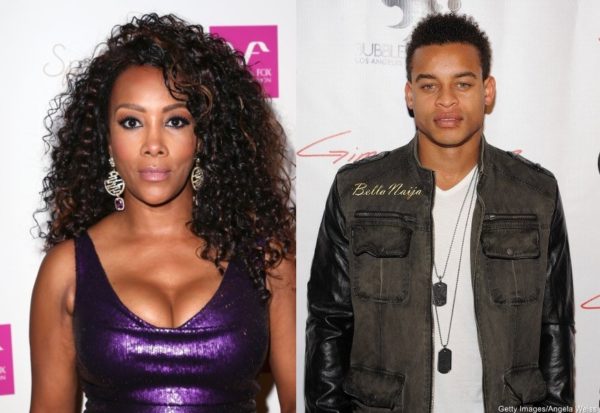 Vivica Fox is giving a new definition to the word 'cougar' because according to an exclusive report from Daily Mail, the 50-year-old actress is dating a man almost 20 years younger than her.
Trust us when we say you know who the young man is.
Think Bobby from Cousin Skeeter on Nickolodeon back in the day…yup! She's reportedly dating 32-year-old actor Robert Ri'chard.
According to Daily Mail, the two of them met on the set of the buzzed-about stripper film 'Chocolate City,' which was shot in Los Angeles in September. In the film, Ri'chard plays Devin – a college student recruited to be a stripper – and Vivica Fox actually plays his mother.
This is not the first time that Vivica Fox is dating a younger man.
In early 2003, Vivica Fox, then 37, started dating 24-year-old Washington Redskins player Darien McCants. Later in 2003, she dated rapper 50 Cent. She was 38 at the time and he was 27.
In 2008, a 44-year-old she began dating 26-year-old Atlanta promoter named Omar 'Slimm' White. After three years of dating, the couple called off their 10-month engagement in 2011.
As far as younger lovers go, Robert Ri'chard is certainly a looker.
Take a look.
Photo Credit: Instagram | Robert Ri'chard
Additional Photo Credit: Getty Images/Angela Weiss