It's just one week left till the Hotshots edition of Big Brother Africa 2014 draws to a close!
In yesterday's eviction, Sheillah, Trezagah, Ellah & Goitse fell just one week short of a shot at the USD 300 000 prize on Big Brother Hotshots as they were sent home in a heart-stopping quadruple eviction on Sunday night. Their departure means that 8 housemates are left in the game – and one of them must be named as the winner next Sunday!
Viewers must now choose between, in alphabetical order, Butterphly (Zimbabwe); Idris (Tanzania); JJ (Zimbabwe); M'am Bea (Ghana); Macky2 (Zambia); Nhlanhla (South Africa); Sipe (Malawi) and Tayo (Nigeria) – and get voting! Next week's 2-hour live show will start an hour earlier, at 19:00 CAT, to pack all the drama of season 9 into one sizzling episode.
Macky2 revealed his Head of House 'add' decision to the housemates, with Ellah declaring "I knew it" as he'd explained that he'd based his decision on who he felt was a strong competitor. The Ugandan was spared – in the first round of evictions, at least – as IK revealed that Sheillah and Trezagah had been evicted. Joining him on stage, the Motswana said that she'd known 'something was up' when she wasn't nervous for the first time, this week. She declared that her 'thing' with Nhlanhla as "very complicated" and that it wasn't "a relationship". Trezagah said he felt "so bad" at falling so close to the final and explained that he'd moved during the 'freeze task' – the only reason he was up for eviction in the first place – because he thought the task was over, and that he was being pranked again.
IK went back into the house and revealed that someone else was going to be evicted. He read out two more names – Ellah and Goitse – taking the number of evictees to four. The Ugandan could consider herself particularly unlucky to be sitting on the stage with IK, rather than sipping celebratory champagne inside the house with the finalists, as she never received a single nomination on Monday and was only up for eviction because Macky2 had added her to the list. She showed her annoyance when she told IK that she just wanted to punch Macky2 – though she also said she was proud of him for making a bold decision. Goitse said she was feeling "super awesome" and that she was looking forward to using her newfound fame to help her explore dancing, acting, writing, poetry, presenting "and everything".
Five housemates were tied on 1 country vote apiece after Africa voted this week, so the tie-breaker rule came into effect, sending the four contestants with the lowest percentage vote for all countries, home. Since JJ picked up a higher percentage vote, he was spared and sent into the final. Conversely, Tayo picked up the most country votes (4), followed by Idris (3) and Sipe (2).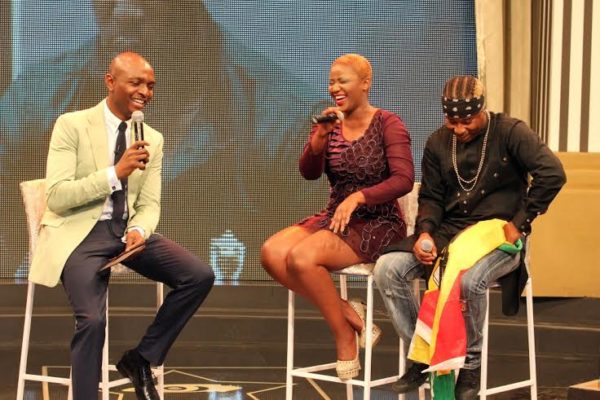 Sipe won the StarMeter prize this week on the back of the question: "Which of the Big Brother Hotshots housemates do you think has what it takes to win?". Big Brother celebrated the work done by the Friends of the Global Fund Africa this week, naming them as winners of the USD 100 000 ONE Africa Award – in keeping with the housemates' theme for the past week.
Ugandan Reggae & Ragga star Bebe Cool performed 'Love You Everyday' and Fally Ipupa almost brought the house down with 'Original'.
Voting opened immediately after the show and runs until 06:00 CAT on Sunday. Voters must now choose who of JJ, Tayo, Idris, Butterphly, Macky2, Sipe, Nhlanhla and M'am Bea they want to win Big Brother Hotshots! The more you vote for your favourite housemate, the better their chance of being named as the winner of Big Brother Hotshots next week.
Start voting now by visiting www.bigbrotherafrica.com for more information.