BellaNaijarians! It's time for BN Bargains.
This festive season there are tons of discounts, sales and bargains going on and we've got the details!
Tripican's 12 Days of Movies!
It's Tripican's 12 Days of Movies!! Get 30% off Movie Tickets This Season! Promo Starts from December 13th till December 25th!
Use Discount Code: XMAS
How to Make Use of a Discount Code on www.tripican.com 
Visit tripican.com
Select Movie.
Select Date, Cinema and Show Time.
Select No of Tickets You Wish to Buy.
Enter Discount Code e.g. XMAS in the Discount Code Section and Click on Apply Code.
You Will Receive a discount as stated on the coupon e.g. 30% off Your Movie Ticket(s).
Complete Purchase by Making Payments Online with Your Verve Card/Master Card /Visa Card.
It's that simple!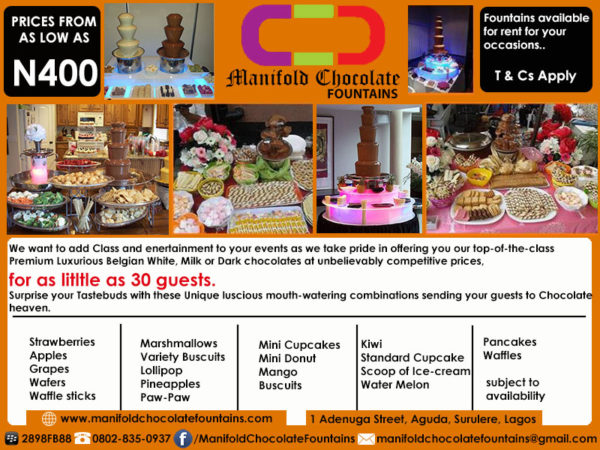 Manifold Chocolate Fountains offers 50% Discounts on Chocolate Fountains and Caramel Fountains Desserts
Add class and entertainment to your events this festive season with Manifold Chocolate Fountains as they offer a 50% discount on chocolate fountains and caramel fountains desserts.
Surprise your taste buds with these unique, luscious, mouth-watering combinations and send your guests to chocolate heaven.
The deals offered include:
N500 Package: CHOCOLATE FOUNTAIN with: Apples, strawberries, grapes, wafers, wafer sticks, Marshmallows, mini donuts and mini cupcakes
N500 Package: CHOCOLATE FOUNTAIN with: Apples, strawberries, grapes, wafers, wafer sticks, Marshmallows, pineapples and paw paw
N500 Package:  CARAMEL FOUNTAINS with; Apples, strawberries, grapes, wafers, wafer sticks, Marshmallows, mini donuts and mini cupcakes
Waffles and Ice cream dribbled with chocolate: N400 per head
Cakes and Ice cream dribbled with chocolate: N300 per head
Shop Bella Cosa and get 10% to 50% off this Season
Be a part of concession boutique, Bella Cosa's Christmas sale.
The store stocks several brands such as Shankstar, KolaKuddus, Amede, Adey soike, Souza, ENVY, Mac Nisy, Breeze and many more and is having its Christmas Crazy Sales from the 15th of of December to the 31st of December.
With delivery available all over Lagos, Bella Cosa is offering shoppers 10% to 50% on all items.
Location: 28 Admiralty Way, Just Adjacent Coldstone Creamery, Lekki Phase 1
For more information contact [email protected] and Instagram @shopbellacosa or call 08133062019, 09096853855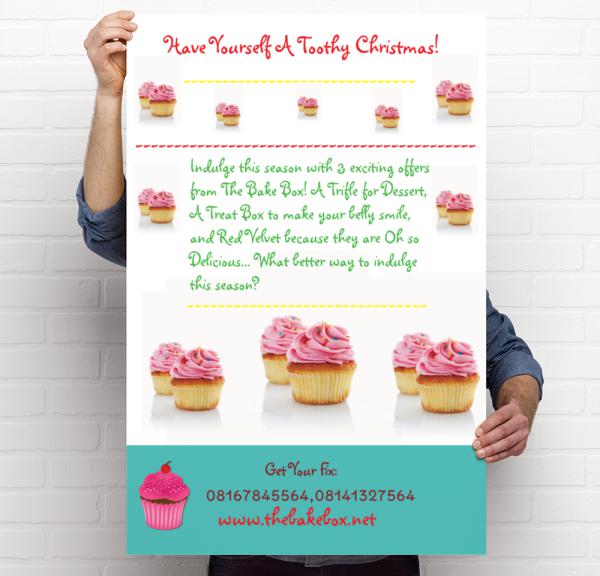 The Bake Box offers a Toothy Christmas with Desserts, Treat boxes and Red velvet
This year, make your Christmas special with 3 exciting offers from The Bake Box Lagos.
The Bake Box is offering their customers three deals:
A dessert for the Holidays @ N7, 000 – Layers of Vanilla cake, cream cheese filling, cherry conserve, creamy custard, whipped cream and berries.
Christmas treat box @ N6, 000 – Mini Banana loaf, fruit loaf and Noel pound loaf… Red Velvet and Cookies n' cream cupcakes…Coconut Macaroons and Gingerbread cookies, all in a box!
Deliciously Red @ N5, 000 – Get 40% off their signature red velvet cake with cream cheese filling, covered with French-style vanilla roux frosting, red velvet crumbs and toasted almonds.
For more inquiries please call 08167845564 or 08141327564
This offer runs till the 24th of December and continues on the 29th of December through the New Year!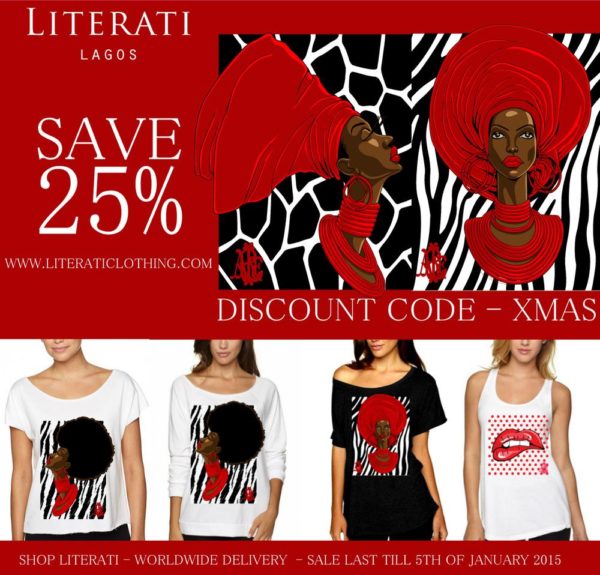 Save 25% on Literati Clothing this Christmas!
For all tee-shirt lovers, Literati Clothing is having a Christmas sale during which ALL items will be discounted by 25%.
To participate in this offer simply visit their website www.literaticlothing.com and enter the discount code XMAS.
NB: Literati Clothing ships all over Nigeria and worldwide as well. Payment can be on delivery, via a bank transfer or through paypal.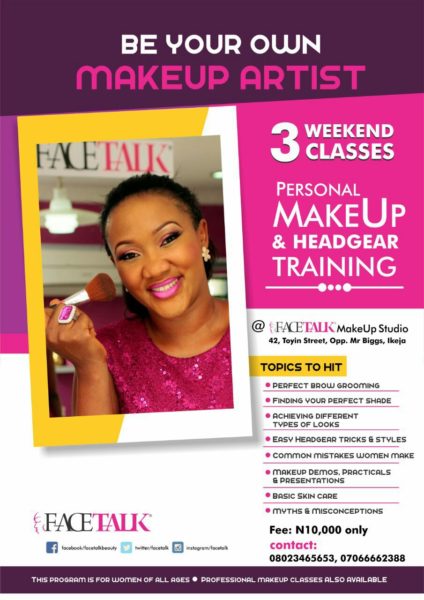 Learn How to be Your Own Makeup Artist with 3 Classes from Facetalk International Makeup Studio
Facetalk International Makeup studio is giving BellaNaija readers an opportnutiy to be their very own makeup artists by attending three discounted classes this December.
The discount is redeemable just by mentioning BellaNaija and you get N3,500 only.
Dates available: Weekday Sessions – December 29, 30 & 31, 2014 or January 2, 3 & 5, 2015; Weekend Session – Saturdays January 3, 10 & 17, 2015.
Time: 12PM – 2PM
For more information please email [email protected]
____________________________________________________________________
Sponsored Content
Would you like to have a bargain featured on BN Bargains? Email us via adsales (at) bellanaija (dot) com