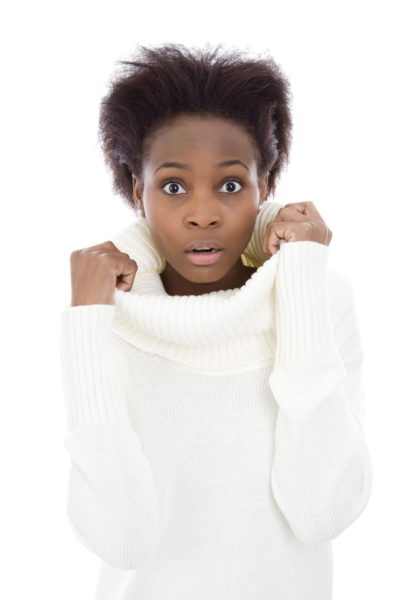 Harmattan is coming and very soon your skin will experience the cold that tags along with it. Cold air holds less moisture and this could affect your skin negatively causing it to dry out, break and peel off.
Today, BN Beauty will be taking you through some do's and don'ts that you should hold tighter than your warm blanket this season.
1. Don't shower with hot water
I know this is like asking you not to check Instagram, but for the next couple of months, warm water is your best ally. When you use hot water in the shower, especially when you stay in there for a long time (hi ladies), it can strip away oils in your skin and leave it dehydrated. By switching to warm water instead, a reduced level of oil is removed from the skin and it is not as harsh.
We also suggest using an oil-based product like shea butter or olive oil and rub it on your skin while damp. This way, as your skin dries up, it locks and seals the oil in your skin which helps prevent breakage etc.
2. Switch up your skincare routine
By now you should have 2 beauty routines; one for the Summer and warmer period and another for the colder time of the year. Because the air and your environment changes, you have to change up your skincare routine to match so your skin doesn't suffer for it.
For example, if you use a gel cleanser, try switching to a cream cleanser. The gel will be more harsh on your skin, because it doesn't contain as much moisture, which could lead to skin damage because of how dry the air is. A cream cleanser will nourish your skin and add much needed oil to hydrate and moisturize your skin.
3. Don't use gels or chap stick lip balms on your cracked lips
I know a cracked lip can be the worst thing ever – It can be very painful and will definitely ruin your pouting snaps for the 'Gram'. But piling on a large amount of gel balms will not give you the much needed moisture, and will only offer temporary relief. A cream-based balm will do your lip a lot more good.
4. Reduce coffee Intake
No we are not trying to kill you – no hot water, no coffee, it's not a death sentence, just hear us out. Excessive intake of caffeinated drinks (Antihistamines) can be dehydrating to your skin, and the key thing to survive Harmattan is moisture. So, try switching to decaffeinated drinks to help you retain moisture in your skin.
5. Avoid wet clothes
As the air gets colder, wet clothes are not what you want to get caught in. Apart from getting the chills, wet clothes like socks, gloves, scarves, jackets etc can irritate your skin; the wet fabric rubbing against your dry skin will cause friction which will end up causing irritation, cracks, sores or even eczema on the surface.
Try your best to avoid wet clothes so you still have great skin for the new year.
Hey, we are going through Harmattan together, so share some of your go-to skincare tips and tricks with us!
Photo Credit: Dreamstime/Frizzantine