The Battle for Middle-Earth had begun. And as Men, Dwarves, Elves and Orcs battle, some must unite and others must be destroyed in the much-anticipated "Hobbit: The Battle of the Five Armies".
It's Wednesday Tripicanites, and boy do we have a treat for you! Today, you can see any movie at just N700 at the Genesis Deluxe Cinema. Be sure to also grab your free popcorn and a drink while you get excited by the movie! Buy tickets now here: http://bit.ly/18qZyNE
Do you know that you can now buy tickets online for movies showing at The Silverbird Galleria, VI? Tickets are available now at Tripican.com!
Good News!

It's Tripican's 12 Days of Movies! Get 30% off movie tickets this season! Promo starts from Saturday 13th – Thursday 25th December 25th!
Use Discount Code: XMAS
How to make use of a Discount Code on www.tripican.com
1. Visit www.tripican.com
2. Select Movie
3. Select Date, Cinema and Show Time
4. Select No of Tickets you wish to buy
5. Enter discount code e.g. 'XMAS' in the Discount Code section and click on Apply Code
6. You will receive a discount as stated on the coupon e.g. 30% off Your Movie Ticket(s)
7. Complete purchase by making payments online with your Verve Card/Master Card /Visa Card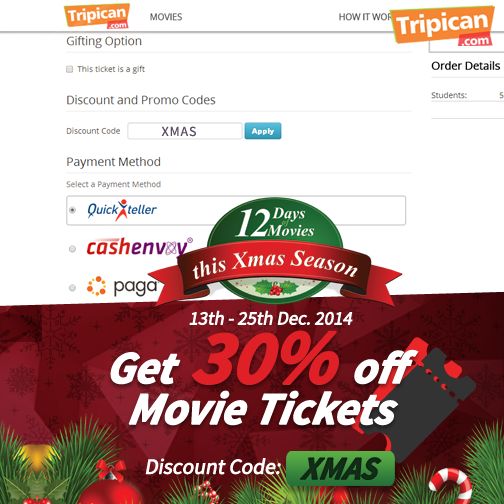 Synopsis
From Academy Award (R)-winning filmmaker Peter Jackson comes "The Hobbit: The Battle of the Five Armies" the third in a trilogy of films adapting the endearingly popular masterpiece "The Hobbit", by J.R.R. Tolkien. "The Hobbit: The Battle of the Five Armies" brings to an epic conclusion the adventures of Bilbo Baggins, Thorin Oakenshield and the Company of Dwarves.
Having reclaimed their homeland from the Dragon Smaug, the company has unwittingly unleashed a deadly force into the world. Enraged, Smaug rains his fiery wrath down upon the defenseless men, women and children of Lake-town. Obsessed above all else with his reclaimed treasure, Thorin sacrifices friendship and honor to hoard it as Bilbo's frantic attempts to make him see reason drive the Hobbit towards a desperate and dangerous choice. But there are even greater dangers ahead.
Unseen by any but the Wizard Gandalf, the great enemy Sauron has sent forth legions of Orcs in a stealth attack upon the Lonely Mountain. As darkness converges on their escalating conflict, the races of Dwarves, Elves and Men must decide – unite or be destroyed. Bilbo finds himself fighting for his life and the lives of his friends in the epic Battle of the Five Armies, as the future of Middle-earth hangs in the balance.
Cast
• Martin Freeman (II) as Bilbo Baggins
• Ian McKellen as Gandalf
• Richard Armitage as Thorin Oakenshield
• Andy Serkis as Gollum
• Ian Holm as Bilbo Baggins (old)
• Elijah Wood as Frodo Baggins
• Cate Blanchett as Galadriel
Watch The Hobbit: The Battle of the Five Armies Trailer

On a scale of 1 to 5 rate the trailer
• 5 stars
• 4 stars
• 3 stars
• 2 stars
• 1 star
Movie Images
Get tickets for this and more movies at www.tripican.com