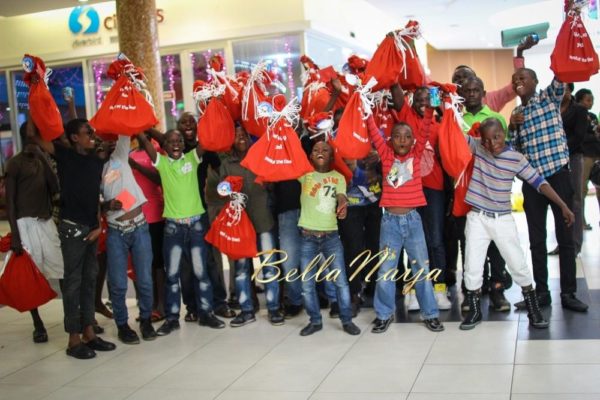 Merry Christmas BellaNaija Fam!
It has been a blessed year all around; and to celebrate we enjoyed an absolutely fun day with 30 very special children. All through the year, we have worked hard to give back to our community in various ways. However, we felt we needed to do something extra special for the Christmas season… so we did!
We brainstormed a day out at the cinema with children who definitely needed a "pick me up" to put smiles on their faces this season.
The BN team worked together to amplify the idea with amazing Christmas gifts and a day filled with fun.
We reached out to Child Life-Line, a non-profit organisation,  which does remarkable work with vulnerable at-risk youth by empowering them through formal and/or vocational education. Child Life-Line works relentlessly to reconnect them with their families. We also had Nigeria's premier movie ticketing site – Tripican.com for the cinema tickets.
The BellaNaija Christmas 2014 Fun Day, in collaboration with Tripican.com was born!
We had a great time. None of the 30 children had visited a cinema before. Sadly most of the young teenage girls are pregnant (this also limits their access to non-profit programmes due to government regulations); the boys also face various challenges each day. The day was a chance for them to be children and leave the very adult issues they experience, daily, behind.
From the smiles on the faces of the children, we knew all the planning was worth it. The children laughed out loud during the movie, smiled all through lunch and picked up their Santa bag filled with educational and fun gifts.
A huge thank you to everyone that came out on the day – BN team, Tripican team, Child Life-Line team and chaperones, Insigna Media team, Wadami, Oyinda, our little helpers (Fadeke & Morinola), my mum and le hubs.
Check out photos below and wishing you a very blessed Christmas & a happy New Year!
~Uche
****
The day started at Child Life-Line's drop in centre in Ifako-Gbagada. There, we picked up children who had travelled from the charity's residential home in Ikorodu, and also children from the neighbourhood who regularly visit their drop-in centre.
Our venue was the Silverbird Cinema at the Ikeja Mall. The children liked the mall and we took a quick look around before we headed to the movie theatre.
The kids definitely had a blast during the Disney's Big Hero 6 – a story about family, friendship, trust and finding your happiness (you should see it!). They cheered, clapped, and laughed all through.
Striking a pose after the movie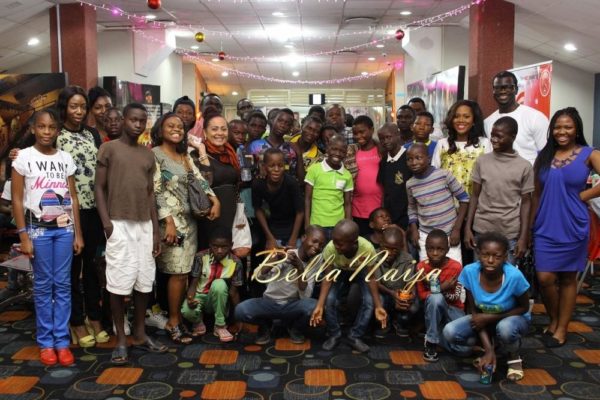 Gift time!
During lunch, we got a chance to chat with our special guests one-on-one.
By 1:30 pm when  it was time to go, we were very happy that CLL allowed us the privilege of spending time with these special children.
Time to head home…
****
We'd love to have our BN Fam join us next year. Till then..Enjoy your holiday.
Photos: Insigna Media
Gifts and Packaging: Ribbon Room (The children loved the Santa bags!)
__________________________________________________________________________________________
Find out more about Child Life-Line HERE