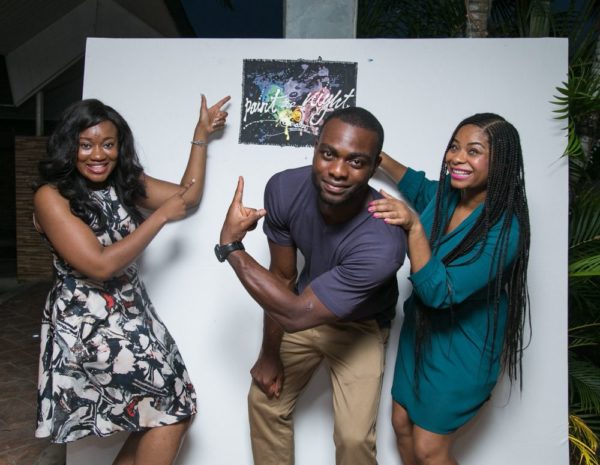 On Thursday 27th November 2014, an exclusive launch party was held for invitees to sip and dip the night away.
Paint the Night Africa is a night-changing event that incorporates creativity while combining elements of food, cocktails and music at trendy bars and restaurants in Lagos. Guests were treated to an evening of sipping drinks while dipping their brushes and sampling delicious appetizers at Ginger Taps and Grill in Lagos.
During the event guests were encouraged to let their creativity flow with the stroke of a paint brush. Professional artist Soji Yoloye was available to provide a fun, stress-free environment and assist guests with creating their own one of a kind masterpieces, all while providing positive and encouraging feedback.
Guests left feeling great about their creations and described the event as a welcomed platform to let their creative juices flow.
Supporters of the event include Uber Lagos, Wilson's Juice Company.
The next Paint The Night Africa is set to hold on Sunday 11th January 2015 by 2PM at the Bogobiri House, Lagos. Send an e-mail to [email protected] for more information.
Watch highlights from the night below;

Video Credit: Directed by Christopher Okoigun for Parra www.parralag.com
Photo Credit
Ayo Omoshewo for Fotolighthouse- http://www.fotolighthouse.com/
For information on our upcoming events please visit http://www.ptnafrica.com/| Find them on Facebook: www.facebook.com/Paint The Night Africa | Follow them on Instagram: @PTNAfrica | Contact them at [email protected]
_________________________________________
Sponsored Content