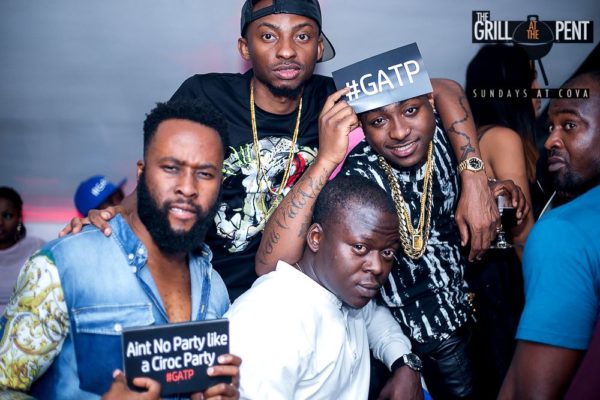 How time flies when you're having fun! As the organizers of day party Grill at the Pent celebrated their 1 year anniversary on Sunday 11th January 2015, guests joined in for all the fun, music, drinks and electric ambiance. The year of 2014 which saw over 40 parties from GATP, was one that placed the day party as a fun place to unwind every Sunday.
As guests arrived at the event which took place at COVA, at the Pent House of Mega Plaza, Victoria Island, Lagos, they were first greeted by refreshing pineapple flavoured Ciroc cocktails served in coconuts and pineapples after which they took turns taking pictures at the GATP Picture Montage Blue Carpet. All this went down as other guests enjoyed fireworks, music courtesy of DJ Ruud & DJ Big N and GATP gift packs and merchandise.
Celeb guests that attended the event include; Davido and The HKN Crew, Ice Prince Zamani, Ezinne Akudo, Iyanya, Noble Igwe, Sound Sultan, Victoria Kimani, Emma Nyra to mention a few.
See photos from the event;
Grill at the Pent is brought to you by BankHead Entertainment and powered by Ciroc ultra premium vodka.
Partners include Bang & Kosher and Weyworld. Media partners include – BellaNaija, 360Nobs, Style Vitae, Beat FM, Uber Lagos and City People.
To find out more about GATP, Follow them on Instagram/ Twitter: @TheGrillatdpent @BankheadEntertainment @CirocNigeria | Search the HAshtags #GATP #CirocLifeNGR #BankheadParties
Drink and Celebrate Life Responsibly with Ciroc, Take an Uber Car.. Promo Code "GATP"… Code works only on GATP Sundays.
This Event is Strictly 18+
_______________________________________
BellaNaija is a Media Partner with Grill at the Pent