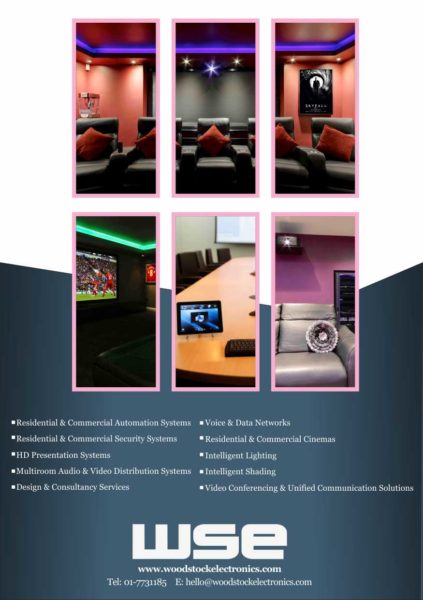 Woodstock Electronics is the one stop smart tech solution provider for your homes and businesses. Having pioneered the custom electronics design and installation industry in Nigeria and with over 20 years of exceptional professionalism, we have been able to service a wide spectrum of clients.
Our business solutions cut across all sectors from Banking and Financial institutions, Telecommunication companies, Multinational corporations, Educational institutions, to Hospitality establishments and numerous residential developments.
Services
• Residential and commercial automation systems
• Meeting/Board/Training room presentation solutions
• Smart lighting solutions
• Intelligent blinds and shading solutions
• Customised control systems
• Distributed/multi room audio systems
• HD video distribution systems
• IPTV solutions
• Sound reinforcement systems
• Security and surveillance solutions
• Design and advisory services
• Smart homes/ Home Automation
• Home Cinema
As an Electronic Systems Professional (ESP) member of CEDIA with Infocomm CAVSP & CTS certifications, Woodstock Electronics has developed a wealth of experience, in-depth technical knowledge and a reputation for excellent service delivery with both their local clientele and international partners.
There will be a showcase of services at the Buildmacex Exhibition taking place at Eko Hotel and Suites from 3rd to 5th February 2015.
Watch their Promotion Video
Visit their office and Showroom at 59, Ademola Street SW Ikoyi, Lagos | Call them on +234 (1) 7731185 | Website: www.woodstockelectronics.com | E-mail:[email protected] | Facebook:www.facebook.com/woodstockelectronics | Follow them on Twitter: @wse_ng | Watch them on Youtube: https://www.youtube.com/watch?v=mn16zDNNqAY | Follow them on Linkedin: https://www.linkedin.com/pub/woodstock-electronics/47/708/984
____________________
Advertorial – Sponsored content