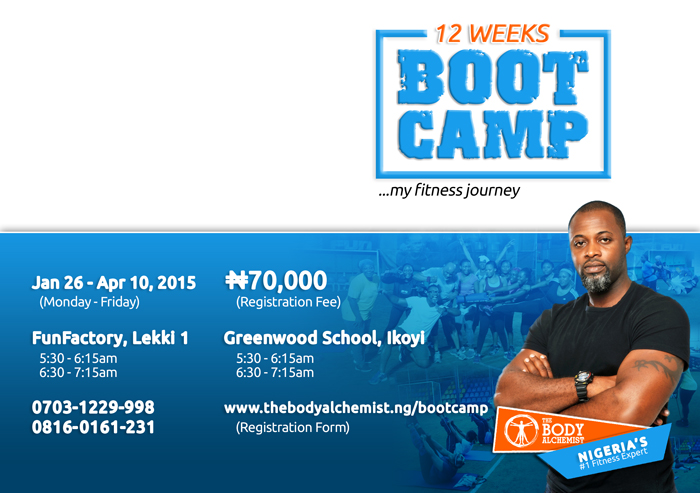 Hey BellaNaijarians! Here's your chance to get back in shape after the seemingly inevitable "holiday weight gain." To assist you in reaching your fitness goals this New Year, The Body Alchemist fitness boot camp has put together a special package for BN readers.
***
If you are looking to take your workout to the next level and achieve maximum results, then we suggest you sign up for The Body Alchemist "12 Weeks Fitness Bootcamp" #MyFitnessJourney.
Weightloss is not a short-term remedy but a journey that requires hard work, determination and persistency. This bootcamp offers you a chance to achieve the body of your dreams under the supervision of a fitness expert with proven results!
The 12 Week Bootcamp approach is the H.I.I.T (High Intensity Interval Training) model which is considered to be an excellent way to maximize a workout that is limited on time (before starting the day). These short, intense workouts provide improved athletic capacity, improved glucose metabolism as well as improved fat burning. They combine Aerobics, Taebo, Power Fusion, Yoga & Zen, Dance Fusion, Strength Training, Circuit and Tabata Training.
Your registration entitles you to a free meal plan, a chance to win weekly prizes such as:
– A N25,000 Adidas Gift Voucher
– N30,000 Gift Vouchers from Lisa Folawiyo
– A FREE Coaching Session (N150,000 value) with Lanre Olusola (The Catalyst)
– Gift Vouchers from BMPRO and lots more
Working out should be fun and rewarding…this is what we do
Below are some results from previous bootcamps;

Event Details
Date: Monday 26th January to Friday 10th April 2015
Registration Fee: N70,000
Venue(s): Fun Factory, Lekki Phase 1, Lagos | Greenwood School, Ikoyi, Lagos
Time(s): Fun Factory: 5:30AM – 6:15AM or 6:30PM – 7:15AM | Greenwood School: 5:30AM – 6:15AM or 6:30AM – 7:15AM
Registration Form: Visit www.thebodyalchemist.ng/bootcamp
For more information please call 07031229998 or 08160161231