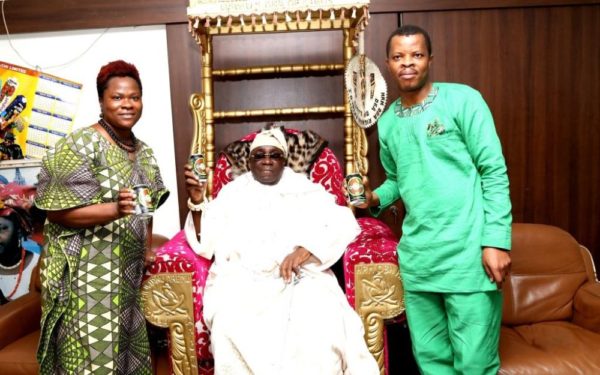 The Royal fathers across Nigeria have joined millions of Nigerians at home and in the diaspora to attest to the fact that Orijin, the modern and contemporary drink from Guinness Nigeria is one the fastest selling and most innovative alcoholic beverage in Nigeria today.
When the Guinness team visited the palaces and kingdoms of these Obas, they were received with royal embrace as well as fanfare.
The Obas attested to the orijinality of the brand and how their chiefs and citizens have chosen it to be their number one choice of drink. They appreciated the fact that it is a drink made by Africans for Africans and this is what has distinguished it from other drinks.
Guinness Nigeria Plc is known for producing great quality products that aim to ensure their customer reach satisfaction at all times.
To further attest to the success of the Orijin brand, Orijin recently won awards from Advertising Association Awards (ADVAN) and Marketing World Award (MWA) as the most innovative brand in 2014.
Inspired after the tradition of herbal drinks, Orijin is an alcoholic blend with the flavours of African herbs and fruits combined to give a refreshing bitter-sweet taste.
Orijin is another quality brand from the stable of Guinness Nigeria Plc.
Orijin is not for sale to persons under the age of 18. Drink responsibly.
____________________________________
Advertorial – Sponsored Content