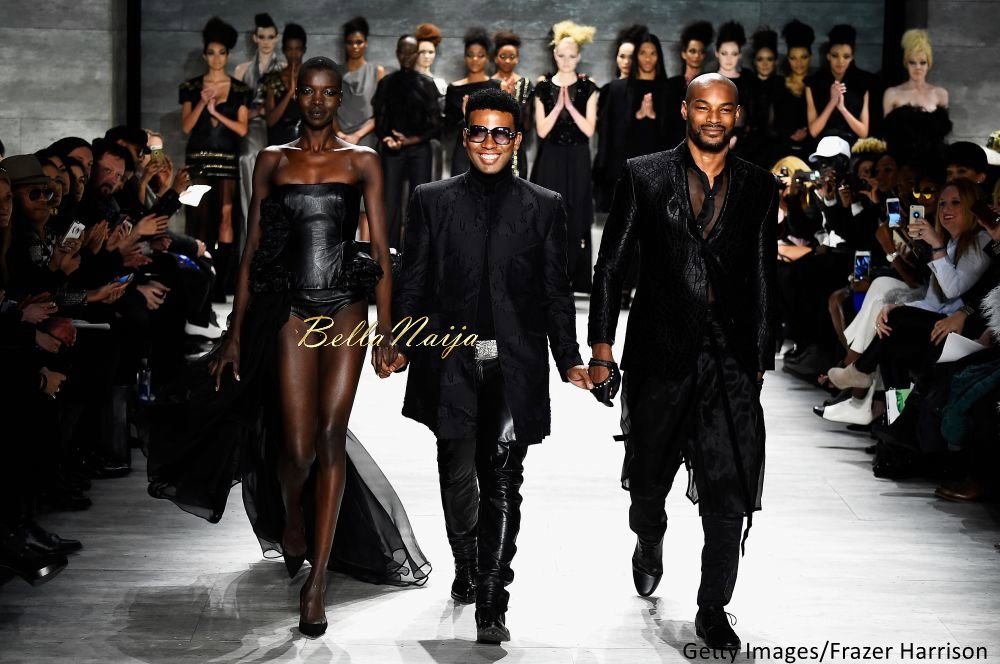 The 2015 Mercedes-Benz Fashion Week New York started a few days ago and we were super-excited to find that South African designer David Tlale would be showcasing his 6th Solo Season in a row at the high fashion event.
Being one of the only African designers present, David had a lot to represent and we were not disappointed.
He debuted his Fall 2015 collection and of course put on a detailed show per the norm; although the showcase was absent his trademark silver Mercedes-Benz on the runway.
The collection, in true David Tlale fashion, was divided into 3 themes – one with a theme of bloack where we can see a lot of leather, sheer fabrics, feathers and gold embellishments come into play; another with a motif print that was translated into dresses, pant suits, jackets, dresses and more; and the third a neutral tone theme conveyed in silk and more fabrics.
It seemed David was giving a literal translation tot he word 'FALL', with haunting, deep and basic tones.
The clothes weren't the only key aesthetic guests had their eyes on, walking the runway were models Tyson Beckford, Nkyhor Paul, Diandra Forrest, ANTM Season 1 winner Aamito Stacie Lagum and more.
See the runway showcase below;
Hair & Makeup
In tune with the overall theme of the showcase, hair & makeup also had a sense of darkness. With attention-grabbing eyes, plane faces and bird nest-inspired hair, the female models looked deeply hollow while the men kept it simple and clean.
Photo Credit: Getty Images/Frazer Harrison