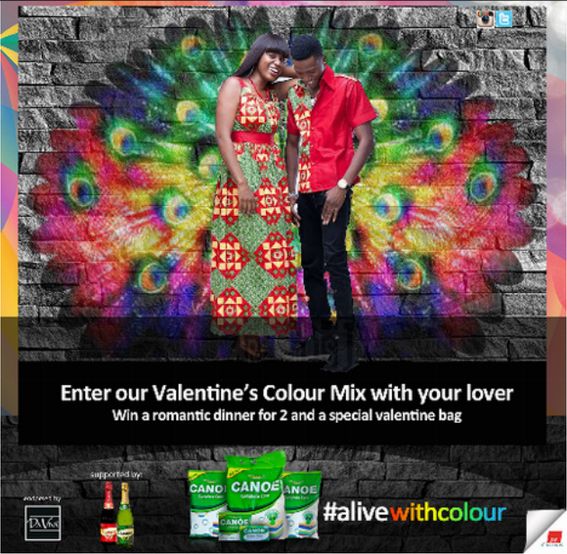 It is a season of love, and indeed love is already in the air!
As the day draws closer, lovers can get set to celebrate yet another St Valentine's Day come the 14th of February, and have a chance to be rewarded with goodies by participating in the on-going PZ Cussons's Canoe Detergent Valentine Colour Mix Contest.
The activation, which is in the spirit of the season, is the Canoe brand's way of identifying with the passion of its teaming consumers by adding love and romance to their celebration in this season of affection.
Everybody can be a part of this unique moment by uploading pictures in which they are posing with loved ones on the Canoe's Facebook page here: http://canoe-alivewithcolor.pgtb.me/CWnth9
To make the love go round, lovers, family and friends (in twos only) are encouraged to strike poses with their creative colourful mix not restricted to traditional attires and send here: http://canoe-alivewithcolor.pgtb.me/CWnth9
Once the pictures have been uploaded, they in turn can get their friends to vote for them. Only 10 couples will be shortlisted and move to stage to 2. The top 5 couples from stage 2 with the most votes get rewarded!
Winners will be able to win boxes of chocolates, exquisite Da Viva materials, St Lauren Non-Alcoholic Wine, dinner for 2 at a choice restaurant and of course your colour-care CanoeDetergent.
The campaign is expected to run from February 2nd 2015 till March 13th 2015.
For more information, please visit Facebook http://www.facebook.com/CanoeLaundry.ng | Follow them on Twitter: @canoelaundryng | Follow them on Instagram: @canoelaundryng | Visit the website: http://canoelaundry.com/
Partners of this initiative include Da Viva and St Lauren non-alcoholic wine.
____________________________________________
Sponsored Content