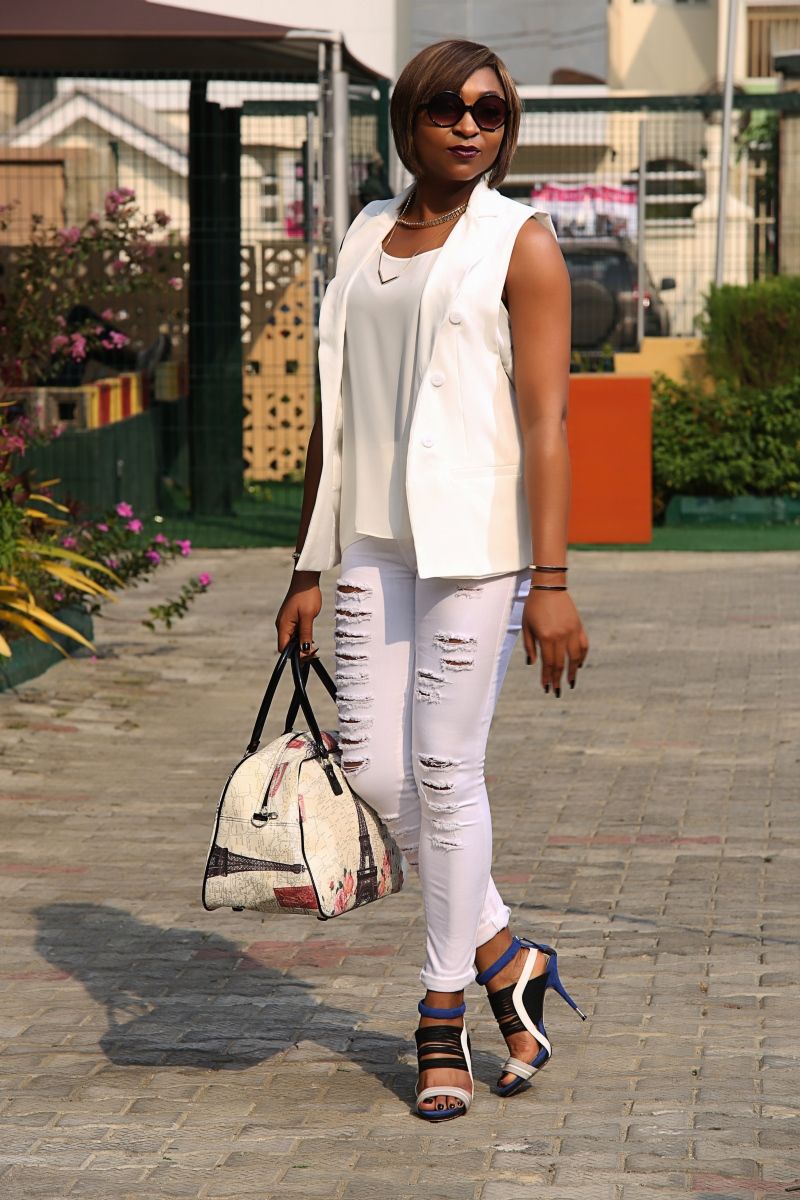 Last week we shared how Media Personality Sharon Ojong rocked a tulle skirt in 3 ways; now she takes on the Distressed Denim Trend.
Nothing says a 'relaxed weekend' quite like a pair of distressed jeans. And if you aren't ready to splurge on a fab new pair, you can always Do-It-Yourself (D-I-Y) your old jeans  to give it that vintage spin.
Get your style in gear as you check out 3 ways you can say goodbye to the work week in fab distressed jeans!
1. The Stylish Spin
Just because the work week is over doesn't mean you can't still look work-chic.

With her signature bob, Sharon rocks all-white with a blazer, tank top, distressed denim trousers and milticoloured strappy heels.
The weekends can be so sunny, so be sure to rock some dark shades and a dark lipstick to contrast the Summer time.
2. The Boyfriend Vibe
The weekend can also be a time to rock out! 

Sharon pairs a laid back white 'No Boyfriend, No Problem' top with white distressed denim trousers, black sneakers and a button-up shirt tied casually tied around her waist.
She adds a pop of colour to her outfit with bright red shades and deep set lips.
3. The Classy Goth
Never shy away from black on the weekends.
Sharon pairs goth makeup with a black sun hat, dark shades, a black waist coat, and distressed denim with fishnet inserts. And of course you can't go wrong with a stylish bag.

You want more, we've got more. Press play for some Behind-the-Scenes action and more stylish tips from Sharon.
Check it out!

Photo Credit
Photography: Shola Ajisegbede (Instagram: @Sniper_Ajix)
Stylist: SharonOjong (Instagram: @SharonOjong)
Location: ElanRed Boutique (Instagram: @ElanRedOfficial)