Lagbaja is being very vocal this election season, and for good reason. The level of insecurity in Nigeria is at an all-time high.
Earlier this week he spoke out against Doyin Okupe's train statements, and called the present Nigerian government 'deceitful and visionless'.
He accompanied the video release with this essay which he sent to BN and posted on his Facebook wall.
"Ah … what great wisdom our forefathers possessed
À ngba òròmọdìẹ lọ́wọ́ ikú
Ó ní wọn ò jẹ́ kóun ràkìtàn lọ jẹ̀
…The vulnerable little chick is being protected from imminent death
But in ignorance it fiercely protests that it is being prevented
From foraging on the garbage dump (where it would have surely been devoured by hawks)
To those young internet warriors hauling repugnant insults at me and at one another
Please learn to make your point without using abusive and foul language
I shudder wondering… is this the character quality of our Nation's future?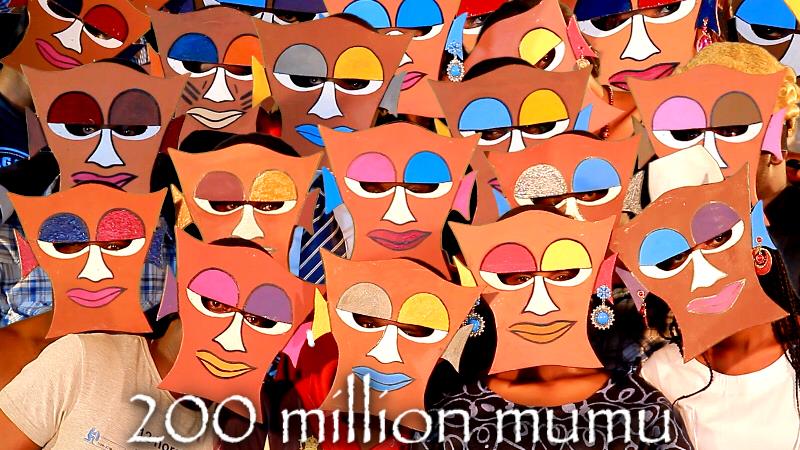 Kindly be civil in canvassing your opinions even when upset
I implore you to please just examine the facts for your own future good
Contrary to what some of you ignorantly imagine, and I say this with all respect and humility
If we re-elect President Jonathan, I have much less to lose than you and your generation
In fact I have an incredibly lot more to gain by shutting up and joining your oppressors
Simply, It is evidently clear that President Jonathan is an unbelievable disappointment
Incredible! … So it is indeed possible to overpower Boko Haram
So why did he not take this decisive action earlier?
Why wait until election time?
Why wait until he first postponed the elections?
He said he underestimated Boko Haram
But instead of vigorously confronting the menace at the onset
He kept wasting precious time pointing accusing fingers at phantom detractors
Did he now just realize his great error?
After the terrorists repeatedly, gruesomely, massacred thousands of souls?
…Unbelievable!
But wait
Even more incredulous is the role of the citizenry
Our docile mumurity gave him free reign
Vigorously going around in circles, but achieving little… beyond
Impunity… Corruption… Deception
One of our biggest problems as a people
Is our absolute worship of power and the powerful
As if a person in power is God
And we his governed citizens are worthless third class creatures
Unless we change our mindset
And understand the basic principles of democracy
This retrogressive cycle would continue
Even after the exit of President Jonathan
You may not be rich
But your well being is as important as theirs and their children's
As a human being, you have rights
As a citizen of Nigeria, you have rights
While giving utmost respect to our leaders
And acting with all sense of humility as dictated by our culture
We should still demand and insist on justice and equity
Your potentially glorious future is at stake
As the rest of the world leaves you groveling far behind
Scavenging for their leftover crumbs
Undoubtedly, we the people are to blame for our woes
The "leaders" have discovered that they can get away with anything… ANYTHING!
Because of our docile mumurity as uncritical and comatose minions
Because we never stand up to them and demand probity
That is why one single man could drag the whole nation to this precipice
Because we be MUMU
The painful irony is that we think we are smart
No… they know that behind all the noise… we be MUMU!
That is why Obasanjo single handedly chose Yar'Adua and Jonathan
And led us like sheep into this turmoil
How blessed a nation we could have been
Had he instead used his great cunning for the benefit of Nigeria
The good things he did, his anointed successors destroyed
Obasanjo used his own hands to destroy what he worked hard to build
… Sad testimony… Bad legacy… Sad autobiography
President Jonathan's woeful failure is the true legacy of Obasanjo
Are we wise enough to learn from this debacle?
And vote President Jonathan out?
And awaken to our citizen responsibilities?
If we, the led, do not keep our leaders on their toes
…Even Buhari when he is elected…
We would remain doomed by the consequences of their reckless impunity
That has been proven by Obasanjo
It has been confirmed by Jonathan
Like many other citizens disappointed by Jonathan
My vote is for Buhari and Osinbajo
First as protest against Jonathan's inept leadership
Then as fervent hope that providence would smile on our battered gasping nation
It should be obvious to all now…
You, like me, may be small
But even the mightily powerful "big man" is mortal dust
Food for worms
…No man is God!"
Here's the music video!