First Lady Patience Jonathan has been hard at work campaigning for her husband's re-election over the past few weeks, and through it all, her bold outfits have matched her audacious declarations.
Mama Peace looked bold and radiant yet again at the National Muslim Women Town Hall Meeting which held on Sunday in Abuja.
She wore this Aqua-blue outfit, complete with a blue matching headtie and purse: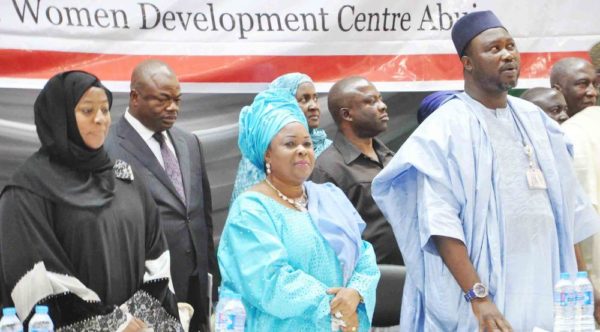 News Agency of Nigeria (NAN) reports that the theme of the meeting was Violence Free Election, the Role of Muslim Women.
While addressing the audience, the First Lady, stressed the need for women to preach peace as critical ingredient of  national  development and advancement  of families.
She said that women are the most vulnerable, during breakdown of law and order, saying that they should do everything to monitor the actions and movements of their wards to avert electoral violence.
"We should not allow peddlers of violence and discord to have their way, we must ensure peace in our churches, mosques and homes.''
She restated her commitment to the emancipation of women and their continued involvement in issues of governance at the highest level.
She appealed to Nigerian women to vote for President Goodluck Jonathan and all PDP candidates in the coming elections in return for placing them in high positions in all sectors.
Photo Credit: NAN-PHOTO