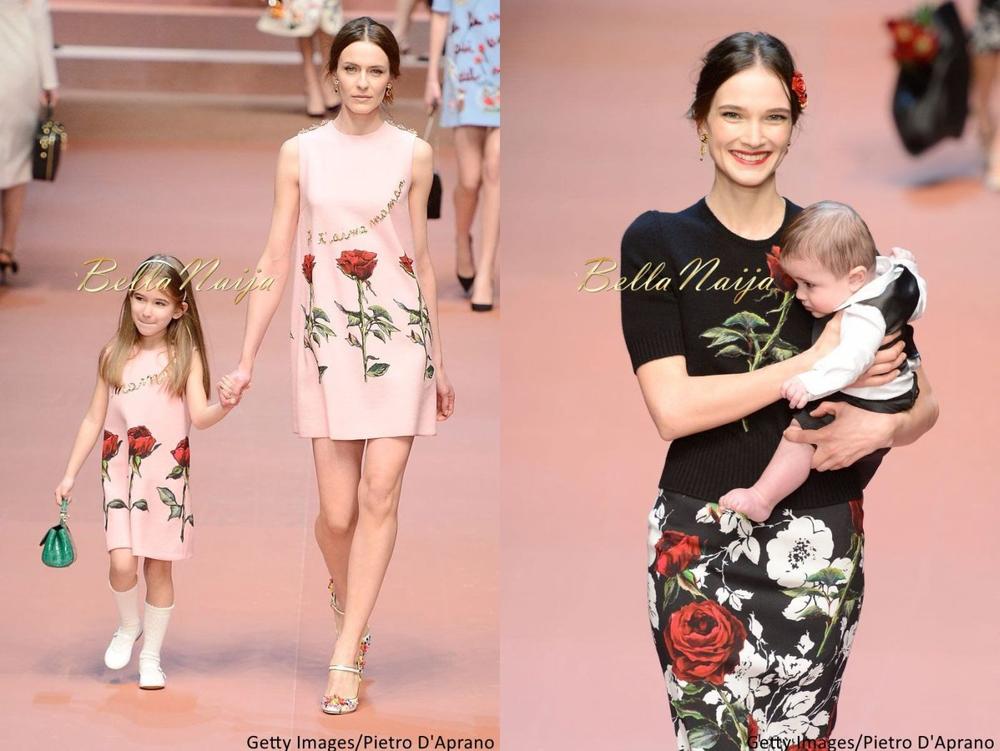 You usually don't see pregnant models on the runway, but at Dolce & Gabbana's Milan Fashion Week 2015 showcase which held yesterday, Sunday 1st March 2015; that was one of the major attractions.
Pregnant models, babies and toddlers stole the show as they walked the runway in clothes printed with drawings by Dolce & Gabbana employees, in the brand's tribute to 'Mamma'.
The aesthetics, which tied into the theme of celebrating the real mothers from all over the world, revolved around a rose-printed extravaganza with almost every piece covered with embroidered rose designs.
The curtain drew to reveal 11 model mothers with their own children on a stage at the end of the catwalk; after which notable D&G muse – Bianca Balti who is pregnant, walked down the runway to applause from the crowd.
Tears were shed, especially from Stefano Gabbana's 84-year-old mum, and a few mushy fashion critics. Songs that played included 'Mama' by the Spice Girls and 'Viva la Mama' by Italian pop singer Edoardo Bennato.
See the adorable mums & mums-to-be, babies and toddlers that walked the runway;
See the rest of the collection showcase below;
Makeup also tied into the theme – It included matte skin, rosy cheeks, soft eyes and a plump lip. And who wouldn't love those statement hair accessories.
Photo Credit: Getty Images/Pietro D'Aprano