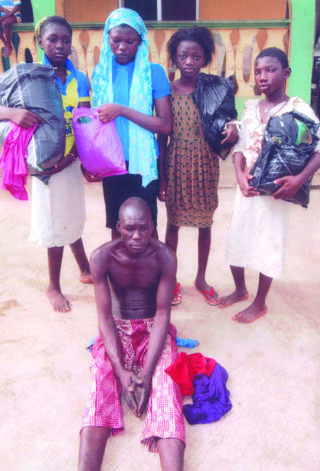 A 47-year-old man in Ogun State who is suspected to be a kidnapper, was caught while he was attempting to take four girls to Lagos without their parents' consent.
The man, identified as Nurudeen Badmus, was caught by someone who knew one of the girls, PM News reports. The individual saw Badmus with the girls early one morning and asked where he was taking them. He began to get suspicious when Badmus couldn't give a straightforward answer.
He then alerted members of the community, who proceeded to beat him up before eventually taking him to the Baale's house.
When interrogated, Badmus said he was taking the girls to Ajah in Lagos State.
"They came to me for financial assistance to enable them go to Ajah in Lagos State. I was taking them to Ajah when somebody identified one of them. I am only assisting them," he said.
However, two of the girls refuted his story, stating that he attempted to deceive them.
"My name is Jumoke. I am 16 years old. Badmus lives near my house. He told me my mother was a witch and that she was planning to kill me. He said I should follow him to a town to escape being killed. He warned me not to tell my mother. I didn't know the place he was taking me to. He also tried to rape me but I resisted him,'' said one of the girls.
Another of the girls, 9-year-old Nimota said: "He picked me on the road and told me that my mother was a witch and was planning to kill me. He said I should run away with him. I don't know where he was taking me."
The parents of the children said Badmus was their neighbour and expressed shock at his actions.
"We are still investigating the matter. If found guilty, he will be charged to court for kidnapping," said a policeman.
Photo Credit: PM News