Are you ready for the man who changes to a big green muscle machine when he's worked up? We are!
We are getting closer and closer to the premiere of the highly exciting Avengers: Age of Ultron premiere set to hold on Wednesday 29th April, and we are giving you a refresher on your favourite characters.
By the way, did you know you can get tickets to the premiere now by visiting Tripican.com? Visit us now!
To get you in the mood for some thrilling action and witty banter, we are giving you a little refresher on your favourite characters and some new ones. We already introduced you to Thor and Ultron here; Captain America here; and The Playboy and Philanthropist Iron Man.
So now meet the scientist that turns green and smashes things – The Hulk!
Check it out!
Mark Ruffalo as Bruce Banner/Hulk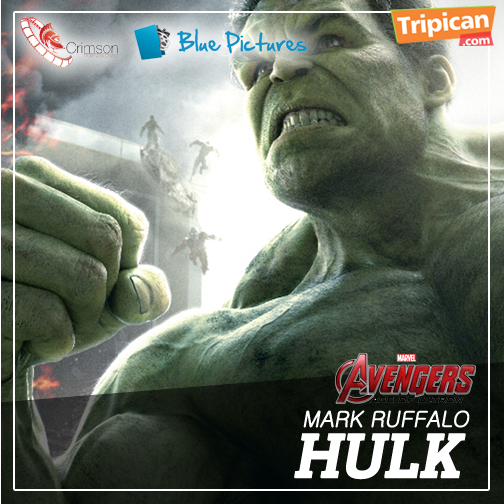 He is an Avenger and a genius scientist who, due to gamma radiation, transforms into a monster when enraged. The Hulk is back and ready to be unleashed as the Avengers' not so secret weapon.
Bruce Banner has embraced the Hulk and is now an important part of the team, although surprising protocols have been put in place to make sure Hulk does not get out of hand in a conflict. Banner also worked alongside Tony Stark to develop the Ultron program as a peace keeping program.
Be sure to pre-order tickets to watch this blockbuster in the cinemas next Wednesday 29th April 2015 on Tripican.com.
Get this and more discounted tickets at Tripican.com.