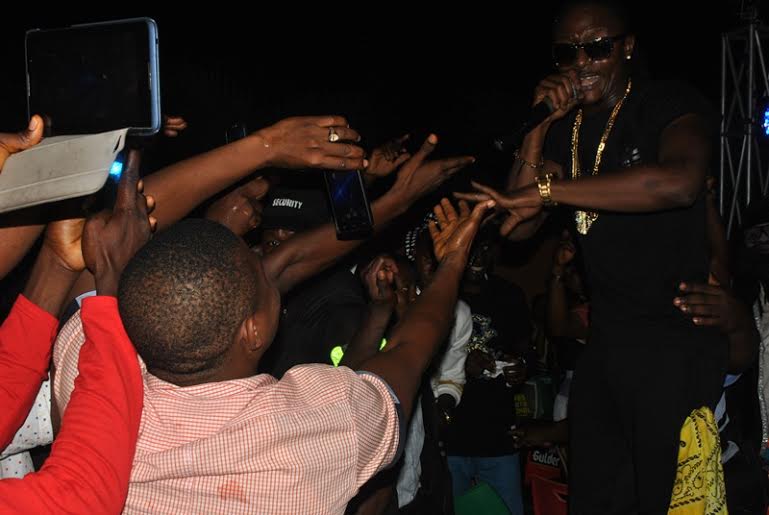 Legend Extra Stout recently hosted a fun event – "Taste & Tell" – with celebs and fans of the brand in Enugu.
The event wasn't just an avenue for guests to have fun, enjoy performances and laugh at rib-cracking jokes, but also proved to be the perfect avenue for Nigerian artiste Terry G to unveil his more spiritual side.
The eccentric musician kicked off his performance by reciting verses from the bible and preaching to the excitement of the crowd.  He stated – "God loves us the way we are, that is why Jesus died for us"; and then went on to perform some of hit popular songs like 'Akpako', 'Free Madness', 'Oga', 'The Microphone' among others.
After Terry G's performance, guests were treated to jokes from Aje Baba and later enjoyed performances from a local cultural group – Pammy Udu Bunch and live music from Tipsy Sounds.
The brand also seized the opportunity to reward loyal customers via the "Taste & Tell" contest where random audience members were selected to participate in a blind taste game to determine who could correctly identify Legend Extra Stout from 3 unmarked glasses.
At the end of the game three winners; Engineer Victor Nwakunor – a PHD Student of University of Nigeria Nsukka (UNN)), Okechukwu Aganmegwa – a 19-year old student of Federal Polytechnic Uwanna, Afikpo and Timothy Ogbuehi – a 38 year-old technician won for themselves a brand new refrigerator, a brand new 32 inch LED television and a brand new generator.
According to Emmanuel Agu (Marketing Manager, Lager & Stout, Nigerian Breweries Plc) – the Taste and Tell in-bar activation was organized to create fun, excitement and to encourage consumers of Legend Extra Stout to spread the word about Legend's distinctive quality.
The Taste and Tell Activation, which has touched five cities; Lagos, Benin, Owerri, Ibadan and Enugu will be moving to other cities across the country soon.
______________________________________________________________________________________________
Sponsored Content