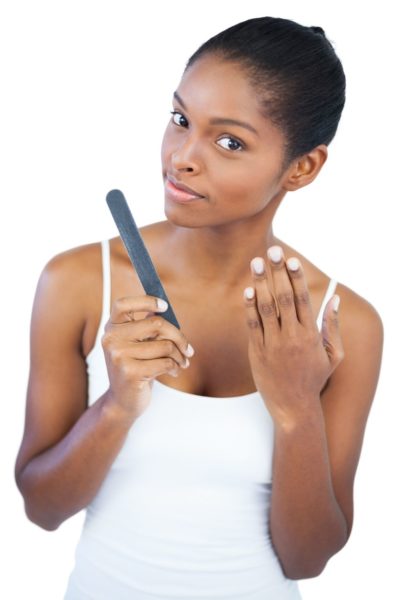 I know I'm not the only woman with soft nails who likes to fix acrylic nails; and that makes me certain that I'm not the one who has had her nails damaged when removing those fake nails.
Having damaged nails can be so painful, especially when you're trying to grow strong and natural  nails underneath. I recently had an experience where my nails had grown to an enviable length and then, like the Grim Reaper, the artificial nails took my budding nails with them when they were coming off. *sigh*
So how can we ensure our nails remain in great condition even when we take out those fake tips? That's our am today!
We are going to be sharing the best way to remove fake nails at home, while saving you a trip to the salon and the heartache of damaged nails.
Check it out and don't forget to share them with your fellow artificial nail lovers and share your special nail removing tips with us.
Here's what you'll need;
– Nail Polish Remover
– Nail Clipper
– Nail Buffer
– Nail File
– A Small Glass Bowl
– Olive Oil
– A Clean Towel
– Cotton Balls (Optional)
– Orange-wood Stick
– Petroleum Jelly
– Moisturizing Lotion
1.  The first step in this process is to cut off the excess artificial nail. The hot trend to rock right now is talon nails (extra-long and pointed nails), and as fab as these nails look when you step out of the salon, it can be a major hassle to remove. To give yourself an easier way of removing the nails, trim or cut them as close as possible to your natural nails to have less nail to work with.
2. Grab your nail buffer and buffer the gloss from the nails. The extra coat on your nails can sometimes make the removal process take longer than necessary, so it is best to buffer that off first. Work around the nail evenly ensuring you don't concentrate too much on one spot.
Clean the dust off your nails and hands before continuing.
3. After you have buffered all your artificial nails, take a small glass bowl and fill it with the nail polish remover (acetone nail polish).
4. When the acetone nail remover is ready, apply some petroleum jelly around the nail bed to protect your skin from the harshness of the acetone nail polish remover.
5. Dip your fingers in the glass bowl containing the nail remover. Leave it in for about 25 minutes, and then take them out. You will eventually notice the acrylic nail starting to separate from your finger after some time in the remover. At this point you know it is alright to remove your hands from the bowl.
6. Then use the orange-wood stick to gently remove the artificial nail from your natural nails. If you notice there is still some resistance, dip that finger back into the acetone remover and try other nails. Repeat until all the acrylic nails are removed.
Be sure not to yank the acrylic nail off your finger. This could lead to rips in the nail where germs and bacteria can live and thrive. These can then get in contact with your skin and maybe your blood leading to infections etc. Remember, you can't fix nails if you don't have fingers.
7. Another great alternative to this step is to get cotton balls, soak them with the acetone nail remover, then place and press over a finger. Leave it on there for about 10 minutes and then wipe downwards. This soaking process softens and melts the acrylic nails and the downward wipe removes it from the nail.
If you notice and excess acrylic or glue, simply dab another cotton ball and repeat the process.
8. After removing the acrylic nail, wash your hands with soap immediately to remove the petroleum jelly and excess acetone nail remover.
9. If you see any excess glue, you can use a buffer to remove the excess.
10. The process of removing nails with an acetone remover can be very drying, especially for your nail beds. So, after you have taken out the nails, apply a cuticle cream and a moisturizer to your hands
Chances are your nails might look a little  rough after this process, but it's totally natural. They just went through a straining process and will need some time to recuperate.
Be sure to leave at least a week between fixing artificial nails so your nails have enough time to heal.
Help a 'sistah' out! Be sure to let us know which nail removal tips you hold dear.
Photo Credit: Dreamstime